FTF Canada announced the 2021 NC EH EH All-Canadian Teams, with Missouri State University's Kyle Hiebert being voted Player of the Year after being named to the All-American 1st Team and significantly contributing to one of the NCAA's best defensive units during the 2021 season.
Levonte Johnson was named Attacking MVP after recording 9 goals and 8 assists for Seattle U during their WAC Championship winning season. Noah Jensen of Oakland University was named Midfielder MVP after producing a staggering 8 goals and 12 assists from midfield. Marshall University's Nathan Dossantos was named Defensive MVP after being named Conference USA Defensive Player of the Year. The Goalkeeper MVP was awarded to Luka Garvan after his phenomenal season between the posts with St. John's culminating in an All-American 3rd Team selection. Finally, Malik Henry was named Freshman MVP after producing an incredible 7 assists from midfield for the University of Akron.
The NC EH EH All-Canadian Teams are selected by FTF Canada, which is made up of representatives from across Canada.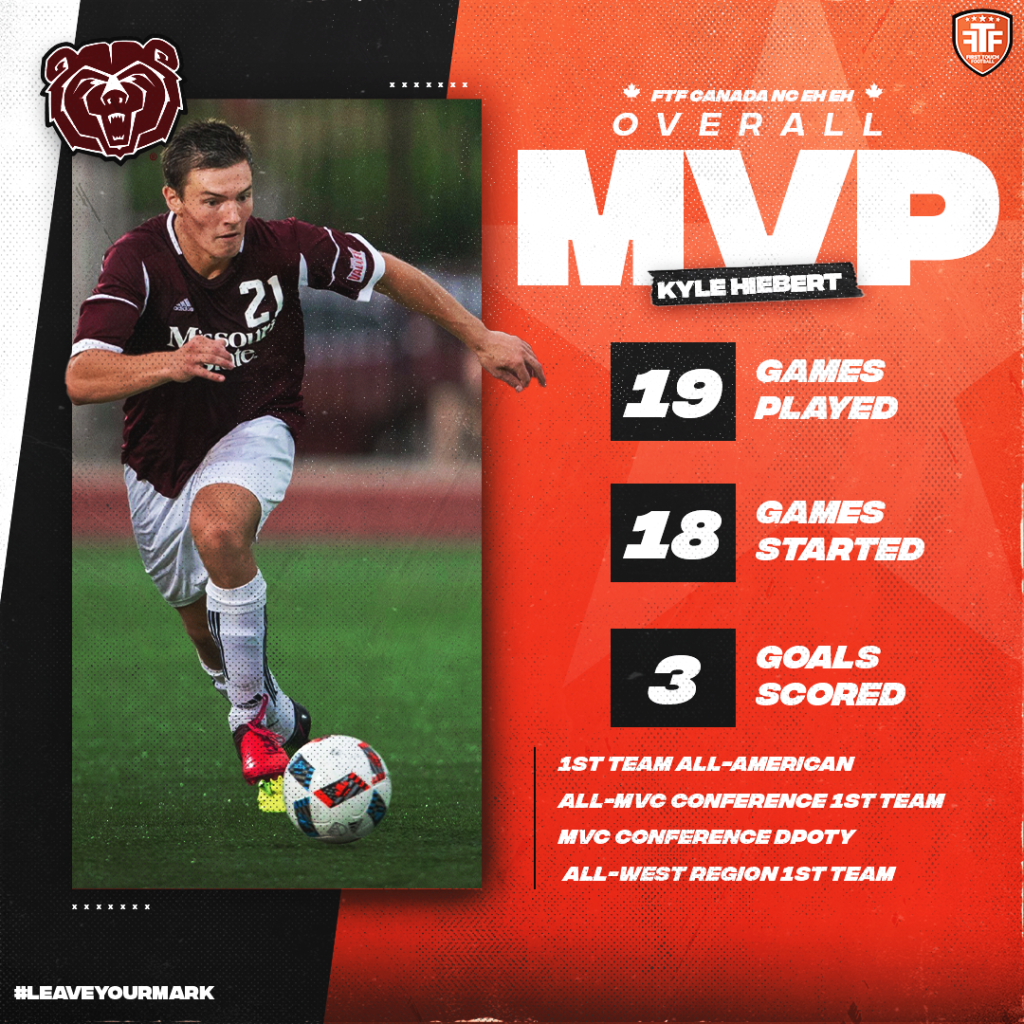 Player of the Year: Kyle Hiebert, Missouri State University: The senior defender hailing from La Salle Manitoba was a foundational piece of one of the best defensive units in all the NCAA. Missouri State boasted a 17-2 record, which included 10 clean sheets. Hiebert was the leader of the backline which ranked 1st in entire NCAA for Win-Loss-Tied percentage with a 0.895% and 12th in NCAA for goal differential. Apart from the sensational team-defensive statistics, Hiebert won a slew of individual awards in his conference, region, and nation. In the Missouri Valley Conference, he was named to the All-MVC 1st Team, as well as the MVC Defensive Player of the Year. Unsurprisingly, he was voted in the All-West Region 1st Team and was the lone Canadian selected as an All-American 1st Team member. Although he was not selected in the 2022 MLS Draft, Hiebert signed his first professional contract with MLS Next Pro side St. Louis City SC.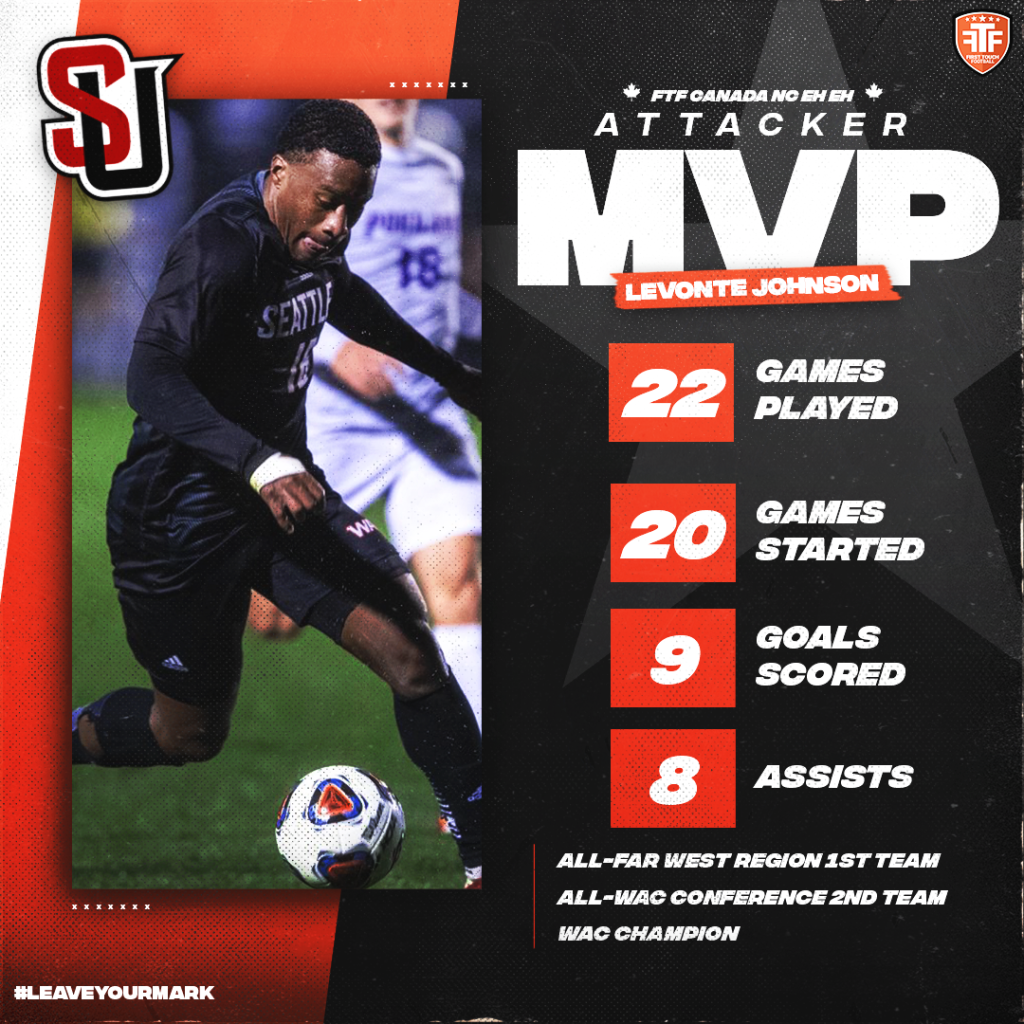 Attacking MVP: Levonte Johnson, Seattle University: Johnson's season was utterly sensational, and the best among all sophomore attacking players in the entire NCAA. The Brampton, Ontario native's total of 26 points ranked 25th in NCAA, while his 9 goals was good enough for 37th in NCAA. Additionally, he ranked 32nd in NCAA for assists after producing 8 of them. Extrapolating his totals and comparing them to his class, he ranked in the Top 10 of each category, including 9th in points, 10th in goals, and 9th in assists. After leading Seattle U to a WAC Championship, Johnson deservedly was All-Far West Region 1st Team and All-WAC Conference 2nd Team.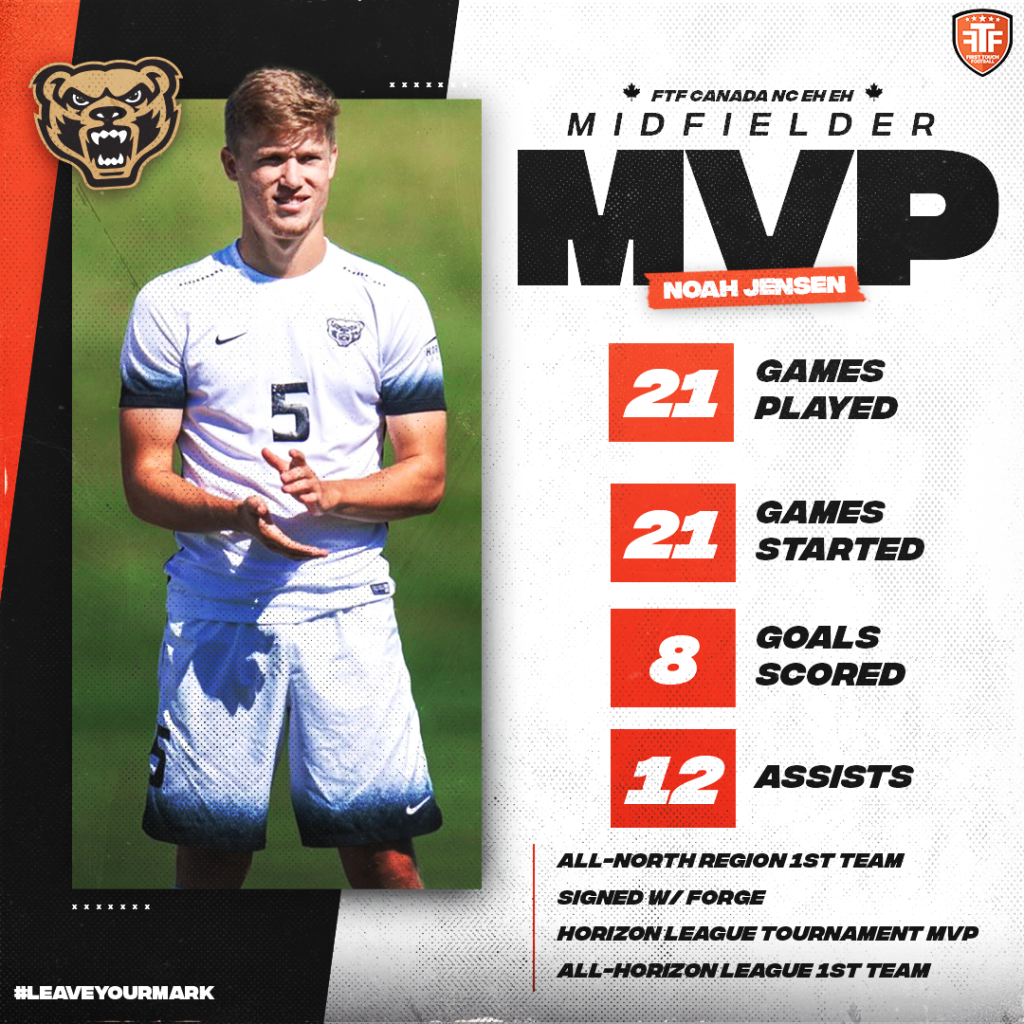 Midfielder MVP: Noah Jensen, Oakland University: Jensen produced a statistical season that most midfielders could only dream of, as he was among the most prolific attacking players in the entire NCAA. The Courtice, Ontario native produced 20 goal involvements in 21 appearances for Oakland during the 2021 season, including 8 goals and a monumental 12 assists. His 28 points on the season was good enough for 15th in NCAA, but his 12 assists ranked 3rd out of all players in assists cementing status as one of the chief creative forces within the NCAA. Fittingly, he was named the Horizon League Tournament MVP and to both the All-Horizon League 1st Team and All-North Region 1st Team. After the season, Jensen signed for CPL side Forge FC.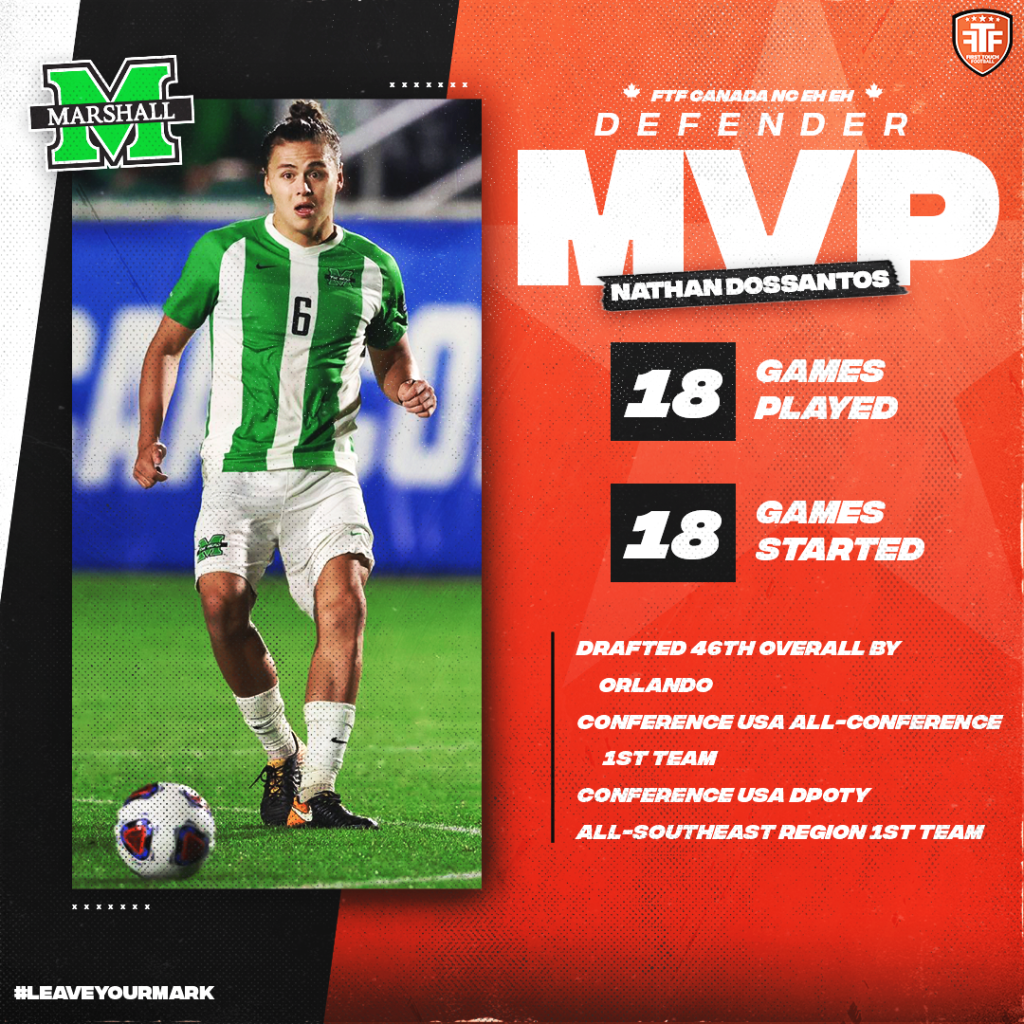 Defender MVP: Nathan Dossantos, Marshall University: Oakville, Ontario's Dossantos followed up a National Championship season in just about the best way possible, without repeating as NCAA National Champions. A slew of individual awards and career progression proved that simply winning at the collegiate level would not be his peak, but a foundational stepping stone for the senior classman. He was a rock at in a backline that kept 9 clean sheets, while playing virtually every significant minute for Marshall this past season. Justifiably, Dossantos was named the Conference USA Defensive Player of the Year, as well as earning All-Conference USA 1st Team and All-Southeast Region 1st Team honours. After the conclusion of his collegiate career, Orlando City SC selected him with their 46th overall pick in the 2022 MLS Draft. Dossantos signed his first professional contract with USL Championship side Pittsburgh Riverhounds.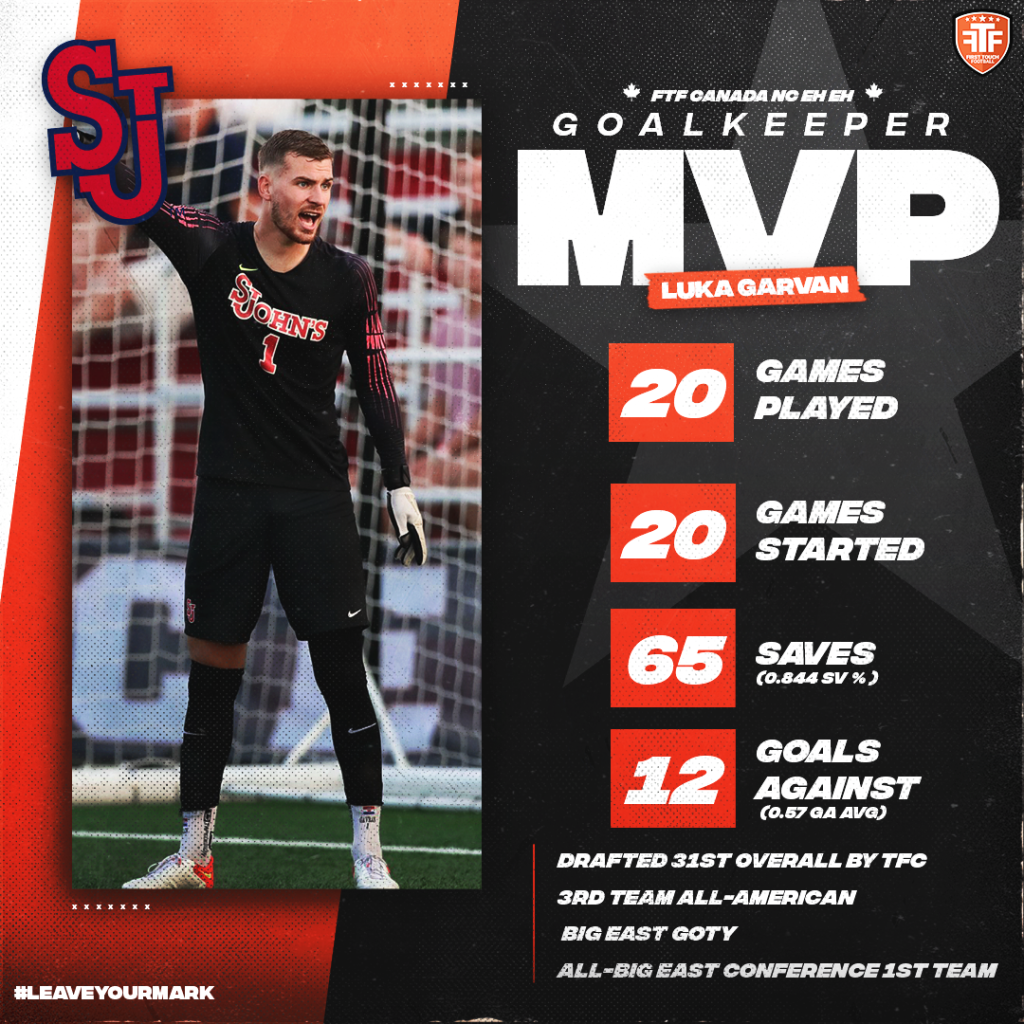 Goalkeeper MVP: Luka Garvan, St. John's University: The Hamilton, Ontario native had a season to remember in goal for the Red Storm. His individual statistics included 12 clean sheets, 0.57 goal-against average, and 0.8444 save percentage over the course of the season. For context, 12 clean sheets ranked tied for 1st in NCAA, the 0.57 goal-against average was listed as 3rd in NCAA, while the 0.8444 save percentage was classified as the best overall among goalkeepers in the NCAA D1. To no one's surprise, Garvan was crowned the Big East Goalkeeper of the Year and to the All-Big East Conference 1st Team. The collegiate accolades didn't stop there, as he was also selected to the All-East Region 1st Team and All-American 3rd Team. During the 2022 MLS Draft, Garvan was chosen by Toronto FC with their 31st overall pick. He signed his first professional contract with Toronto FC II and plays in the MLS Next Pro league.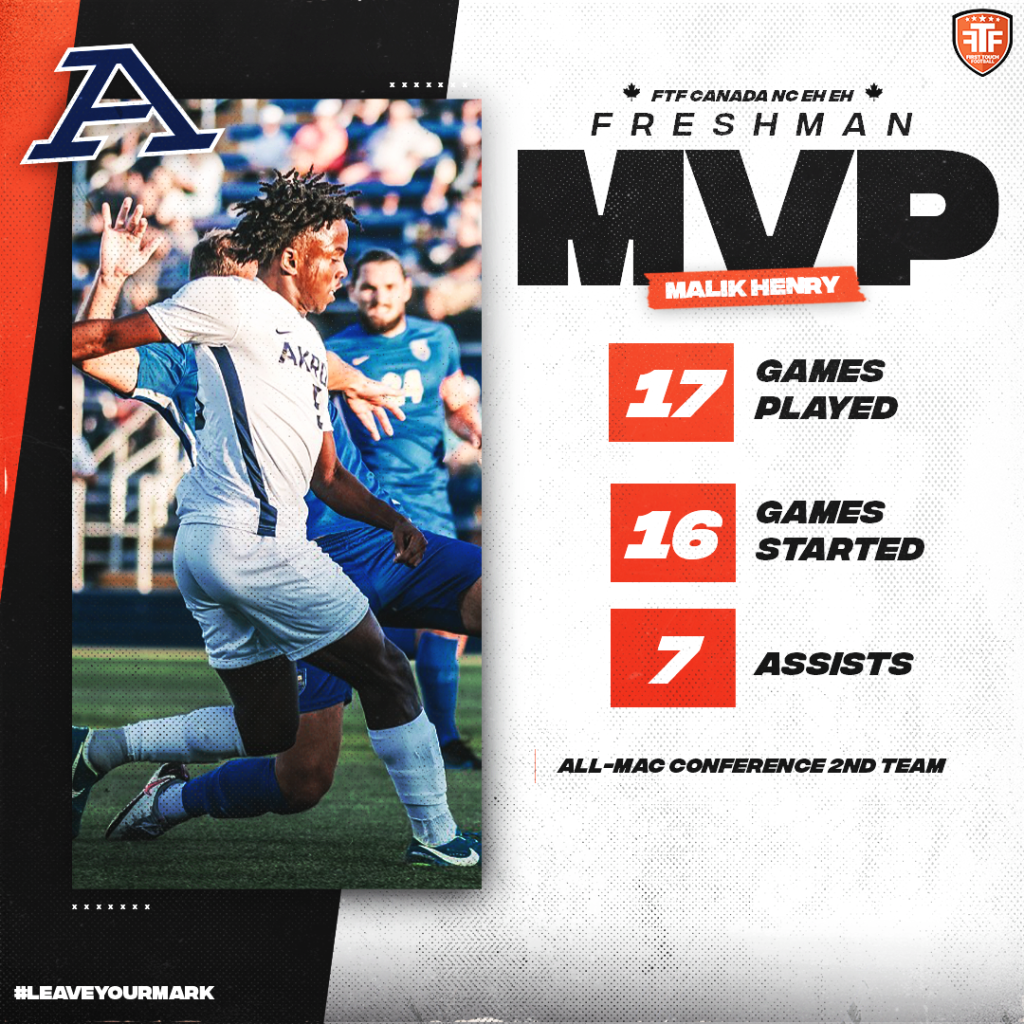 Freshman MVP: Malik Henry, University of Akron: Henry was a large part of Akron's changing of the guard season, as they sport a ton of freshman and sophomores in their squad throughout the year, while the Hamilton, Ontario native stood well-above the rest. Having played part in all of Akron's 17 games, 16 of them as a starter, he was able to produce 7 assists from midfield for his team. This total ranked and 53rd in the entire NCAA for total assists, but it also was the 3rd highest total of assists among freshman in the NCAA during the 2021 season. Henry's sensational freshman season culminated in earning All-MAC 2nd Team honours.