The current Canadian Men's National Team squad is the most exciting and promising group of the last two decades.
Phonzie continues to prove his world class potential, JD is scoring at an elite rate and getting ready for a big summer move, while Larin is preparing to take the next steps in his careers by hopefully joining a bigger club in the summer.
Additionally, Buchanan has joined up with Club Brugge of the Belgian Pro League, Laryea recently completed his move to Nottingham Forest in the English Championship, and Eustáquio has signed with perennial Champions League participants FC Porto.
The rest of the group is also making the best decisions for their respective situations and looking to do whatever is necessary to be in the squad during these international windows.
As the current squad sits atop the CONCACAF 2022 World Cup Qualifying standings with complete control of their own destiny, it's important for all of us Canadian football fans to remember and pay respects to the groups who have already succeeded in major international tournaments wearing the red and white.
1986 World Cup
Anyone remember something memorable happening at the 86 World Cup?
Some of the top players in the tournament included Argentina's Diego Maradona, West Germany's Lothar Mattäus, France's Michel Platini, England's Gary Lineker, Italy's Gianluca Vialli, Mexico's Hugo Sánchez, Brazil's Zico, Denmark's Michael Laudrup, Scotland's Graeme Souness, Spain's Emilio Butragueño, and the Soviet Union's Igor Belanov who won the 1986's Ballon d'Or to name a few.
And yes, our Canadian National Team was there.
Some of the Canadian names we ought to remember playing in that tournament included Dale Mitchell, Paul Dolan, Bruce Wilson, and Carl Valentine.
Mitchell sat atop the Canadian goal scoring record for nearly 20 years, during which he also coached the Canada U20 program which qualified for U20 World Cup in the 2003 and 2005 before hosting in 2007. He also managed the Men's National Team between 2007-2009.
Dolan started Canada's opening match against France, went on to play for Canada in the inaugural 1989 FIFA Futsal World Championships, and play for the Vancouver 86ers for roughly a decade.
Wilson captained Canada at the tournament and would go on to coach the University of Victoria Vikings soccer program for three decades after his professional career.
Samuel won back-to-back Eredivisie titles with PSV Eindhoven in 85/86 and 86/87 and amassed 82 total caps for the senior National Team.
Valentine played for West Bromwich Albion and would go on to be a crowd favourite with the 86ers/Whitecaps faithful as a player, manager, and ambassador.
Canada was drawn in a group with the Soviet Union, France, and Hungary. Canada opened the tournament playing against Platini's France. They held on for nearly the entire game until Jean-Pierre Papin broke Canada's defense with the only goal of the match in the 79th minute. Canada would go on to lose 2-0 in both of their next two matches to Hungary and the Soviet Union.
What is potentially most impressive, Canada was the only CONCACAF nation to qualify out of the region. At this time, CONCACAF only received two spots in the World Cup, and since Mexico hosted, only one nation would qualify from the region. Canada beat Honduras 2-1 with goals from George Pakos and Igor Vrablic to help them qualify, while Dale Mitchell led the team in scoring through qualification with four total goals.
2000 Gold Cup
Canada's only major tournament crown came during the 2000 Gold Cup. Interestingly, this tournament also included Columbia, Peru, and South Korea from outside CONCACAF. Notable Canadian players included Craig Forrest, Paul Stalteri, Jim Brennan, Paul Peschisolido, Jason de Vos, Carlo Corazzin, Martin Nash, Pat Onstead, and Dwayne De Rosario.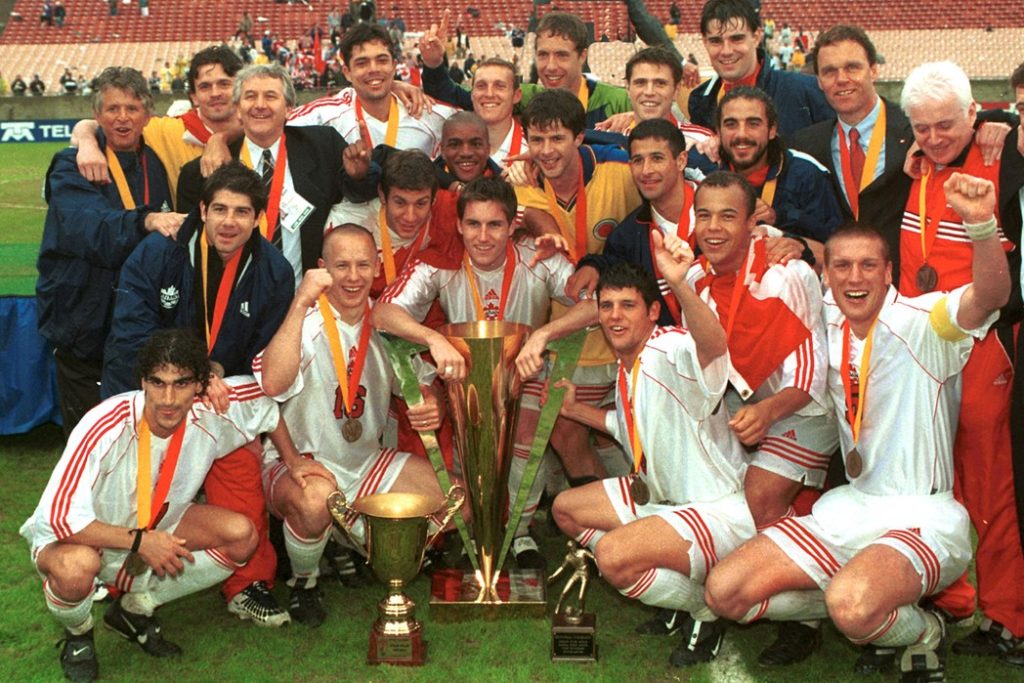 Forrest's career spanned 17 years in England's top-flight as he represented Ipswich Town, Chelsea, and West Ham United. He'd go on to win 56 caps for the national team before beginning his broadcasting career with Sportsnet.
Stalteri spent the bookends of this professional career in the Bundesliga having spent seven years with Werder Bremen and two years with Borussia Mönchengladbach. The three years in between were spent in the English Premier League with Tottenham Hotspurs and Fulham.
Brennan is best known in Canada for being Toronto FC's inaugural captain and York 9's inaugural manager. However, Brennan spent the beginning of his career in England with Bristol City and Nottingham Forest before moving to English Premier League side Norwich City.
Peschisolido, de Vos, Corazzin, and Nash all plied much of their trade in various divisions of English football. All having a great amount of success throughout their careers, Peschisolido and de Vos ended their careers in the UK, while Corazzin and Nash finished with the Vancouver Whitecaps.
Onstead and De Rosario both had legendary MLS careers in which they played together for five years with San Jose Earthquakes and Houston Dynamo. De Rosario won the MLS Cup in 2001, 2003, 2006, and 2007, MLS MVP and Golden Boot in 2011, while being named to the MLS Best XI six times. Onstead won the MLS Cup in 2003, 2006, and 2007, MLS Goalkeeper of the Year in 2003 and 2005, as well as being included in the MLS Best XI in 2003 and 2005.
Canada's group included Costa Rica and South Korea. They advanced from the group stage in 2nd place after a 2-2 draw with the Costa Ricans in which Corazzin scored both goals, and a 0-0 draw with South Korea. These results mirrored the results of South Korea which meant that all five potential tie breakers were even. The second-place qualifier would be determined by a coin toss.
It was literally determined by a coin toss.
Lucky, Canada won the toss which earned them a date with reigning champions Mexico in the quarter-finals.
After conceding in the 35th minute, Corazzin came to the rescue scoring late in the game in order to send it to extra time where Richard Hastings a golden goal winner would score two minutes into the additional period.
In the semi-finals, Canada played Trinidad and Tobago led by Dwight Yorke, a treble winning member of Manchester United, coming off scoring 52 goals over the past two seasons for the Red Devils. A 68th minute goal from Mark Watson sent Canada through the final where they'd meet Columbia, led by former Parma and Newcastle striker Faustino Asprilla.
The final would end with Canada beating their South American opponents 2-0 as Captain Jason de Vos opened the scoring in the 45th minute before Corazzin put the game beyond reach with his tournament leading fourth goal in the 68th minute.
Canada swept the individual awards at the tournament winning the Fair Play Award, Corazzin won the Golden Boot, Richard Hastings won Young Player of the Tournament, while Craig Forrest was tournament's MVP.
2001 Confederations Cup
Canada's reward for winning the 2000 Gold Cup was qualification for the Confederations Cup pitting the 2002 World Cup host nation against every continental cup champion. Adding onto to Canada's squad from the previous year's Gold Cup, the roster notably added Mike Franks and Nick Dasovic.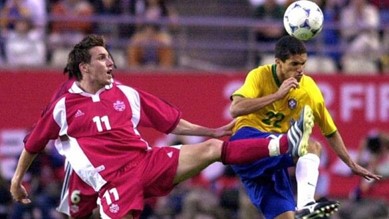 Franks played for PSV in the late 90's where he was managed by the late Sir Bobby Robson in between his stint at Barcelona and before his final job at Newcastle. He was also teammates with future Netherland's stalwarts Marc Van Bommel and Ruud Van Nistelrooy. Franks would later move to Hibernian before finishing his career with the Vancouver Whitecaps.
Dasovic began his playing career at Dinamo Zagreb, before playing in Canada, France, and Sweden, before landing at St. Johnstone. In the 1998 Scottish League Cup Final, Dasovic scored their only goal in a 2-1 loss to Rangers. He finished his playing career with the Vancouver Whitecaps before beginning a coaching career that has taken him to multiple MLS clubs, and with various levels of the Canadian National program.
Canada were drawn in a group with COMNEBOL Champions Brazil, AFCON Champions Cameroon, and opened the tournament with a 3-0 loss to joint-host nation Japan.
Canada followed this result up with a hard-fought 0-0 draw with Brazil, a team featuring Dida, Lucio, and Edmilson who'd feature the following summer for the eventual 2002 World Cup Champions.
In their final game of the tournament, Canada fell 2-0 to a strong Cameroon side that featured Lauren of Arsenal, Geremi of Real Madrid, and a 20-year-old Samuel Eto'o before he'd moved to Barcelona.
It's also important to remember that the Gold Cup and Confederations Cup squads were without arguably the best player this country has ever produced in Owen Hargreaves. During the years 2000 and 2001, Hargreaves won the Bundesliga, UEFA Champions League, and Intercontinental Cup with Bayern Munich.
While the players in the current Canadian Men's National Team is far and above exceeding the individual barriers of previous groups, it is important to hold them to the same standard for success as a collective.
If the current group want to be among the greatest or named the greatest men's team our country has ever produced, they'll have to back it up with legitimate success, World Cup appearances, and most importantly a trophy or two.