FTF Canada announced the 2021 NC EH EH All-Canadian Teams with players earning numerous awards for their performances including 2 All-Region awards and 17 All-Conference Awards. University of Montana's goalkeeper, Camellia Xu, was named as the Freshman MVP for her historic season for the Grizzlies.
The NC EH EH All-Canadian Teams are selected by FTF Canada, which is made up of representatives from across Canada.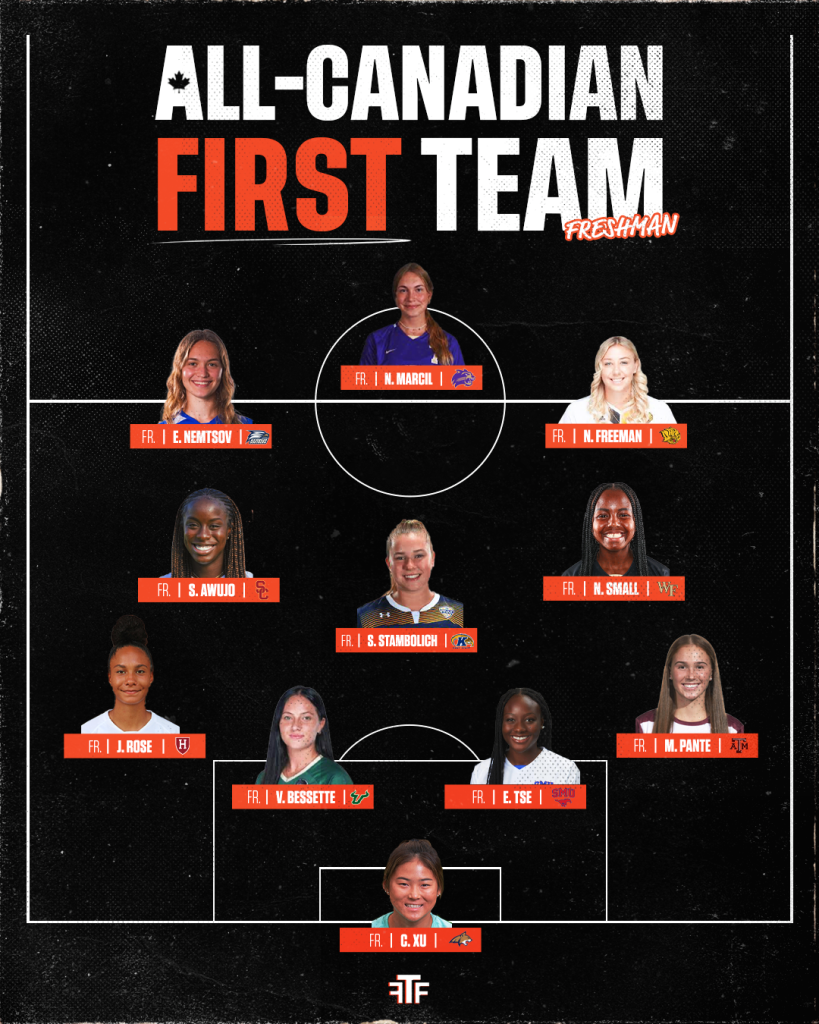 First Team
Goalkeeper: Camellia Xu, University of Montana: Xu became the first goalkeeper in Montana program's history to win the Big Sky Conference Tournament MVP after winning the Conference's tournament. In the entire NCAA, she ranked 25th in goals against average with a 0.72, 11th in save percentage with a 0.859, and 5th in clean sheets with 11. Big Sky Conference GK of the Year was an inevitable result after her stellar season.
Defender: Elisabeth Tse, Southern Methodist University: Tse was one of the best defenders in the AAC. She was named to the All-AAC Rookie Team and the All-AAC 2nd Team after helping SMU to a 12-5-2 record, 10 clean sheets, scoring 2 goals, and adding 3 assists.
Defender: Mia Pante, Texas A&M University: Pante scored 1 goal and ranked 4th in all of the SEC in assists after providing 8 of them for Texas A&M. She helped her team to 3 clean sheets and a 7-9-2 record. Pante's season culminated by being named to the All-SEC Freshman Team.
Defender: Jade Rose, Harvard University: Rose was a stud in Harvard's defense starting 15 games and scored 2 goals, including 1 game winner. She was essential in helping Harvard to a 12-3-1 record and 6 clean sheets, while earning All-East Region First Team honours.
Defender: Vivienne Bessette, University of South Florida: Bessette ended her season earning All-South Region 2nd Team honours for USF. She did so by scoring 1 goal and 1 assist, while also adding and All-AAC Tournament Team and All-AAC 1st Team to her resumé.
Midfielder: Siena Stambolich, Kent State University: Stambolich scored 2 goals and supplied 5 assists in 21 games as a starter for Kent State last season. For her fantastic contributions, she was named to the All-MAC Conference Freshman Team.
Midfielder: Nikayla Small, Wake Forest University: Small got a ton of exposure and experience this season in the ACC starting in 19 conference games. She earned All-ACC Freshman Team honours after notching 1 goal and 5 assists.
Midfielder: Simi Awujo, University of Southern California: Awujo was instrumental for USC starting 15 games in midfield. She scored 2 goals, registered 2 assists, and was aptly named to the All-Pac 12 Conference Freshman Team.
Forward: Natalie Freeman, University of Arkansas – Pine Bluff: Freeman was an absolute force up front for UAPB scoring 12 goals and notching 3 assists. Fittingly, she earned All-SWAC 2nd Team honours for her stellar season around the goal.
Forward: Naya Marcil, Western Carolina University: Marcil was a regular in Western Carolina's attack starting in 14 games. She scored 3 goals, 1 game winning goal, and added 4 assists. An All-SoCon Freshman Team nomination was duly awarded.
Forward: Elis Nemtsov, Georgia Southern University: Nemtsov was a real threat in the SBC. Incredibly, she scored 8 goals in 19 games, as well as adding an assist. Rightfully she was named to the All-SBC First Team.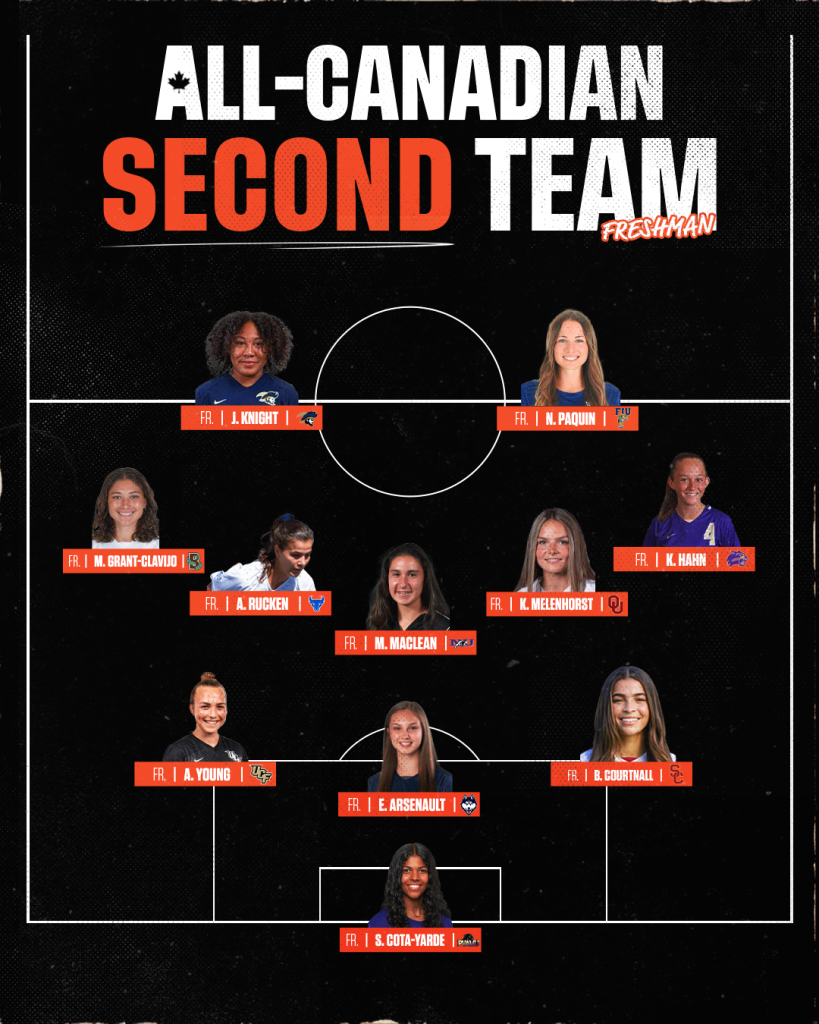 Second Team
Goalkeeper: Sierra Cota-Yarde, Prairie View A&M University: Cota-Yarde started 5 games in her rookie campaign recording a 2-1-2 record and 2 clean sheets. She held a 1.51 goals-against average and a 0.795 save percentage as well.
Defender: Evelyn Arsenault, University of Connecticut: Arsenault was a stalwart at the back for the Huskies playing in 18 games, starting in 17 of them. She scored helped them to a 9-8-1 record and 5 clean sheets, while adding 1 goal.
Defender: Ariel Young, University of Central Florida: Young was named as a unanimous selection to the All-AAC Conference Freshman Team after her inaugural campaign. She scored 2 goals, helped UCF to an 8-7-1 record, and contributed to 8 clean sheets in 16 games played.
Defender: Brooklyn Courtnall, University of Southern California: Courtnall was a steady rock at the back for USC during her rookie year. She started all 20 games, registering a 14-3-3 record, 8 clean sheets, and 1 assist which led to an All-Pac 12 Conference 3rd Team nod.
Midfielder: Maia Maclean, Niagara University: Maclean had a phenomenal freshman season for Niagara. She started 18 games in their midfield registering a staggering 7 goals and 7 assists in the MAAC. Aptly, she was named to the All-MAAC Conference Freshman Team.
Midfielder: Alya Rucken, University of Buffalo: Rucken recorded 2 goals and 4 assists from midfield in the MAC during her first collegiate season. She earned All-MAC Conference Freshman Team honours, while justifying her spot on the team starting 19 of 20 games.
Midfielder: Keera Melenhorst, University of Oklahoma: Melenhorst solidified her spot in OKlahmoa's starting eleven after playing in all 20 of their games during her rookie season. She started in 16 of those and added 2 assists.
Midfielder: Kirsten Hahn, Western Carolina University: Hahn defined the term "super sub" for Western Carolina in her rookie campaign. She played in 19 games, scoring 3 goals, provided 4 assists and was duly named to the All-SoCon Freshman Team.
Midfielder: Miya Grant-Clavijo, Brown University: Grant-Clavijo began her collegiate career in fine form for Brown in the Ivy League Conference. Mainly used of the bench, she scored 4 total goals, including 2 game winning goals, as well as registering 1 assist.
Forward: Noemi Paquin, Florida International University: Paquin won a starting spot in FIU's attack right from the off and paid back her coach's trust with 5 goals in her first season for the Panthers. Conference USA All-Freshman Team honours were rightfully awarded.
Forward: Jenea Knight, Charleston Southern University: Knight was a formidable opponent for any defender in the Big South Conference scoring 4 goals in her inaugural collegiate campaign. Starting in all 15 of her appearances, she was named to the All-Big South Conference Freshman Team, while also earning All-Big South Conference Honourable Mention Team honours.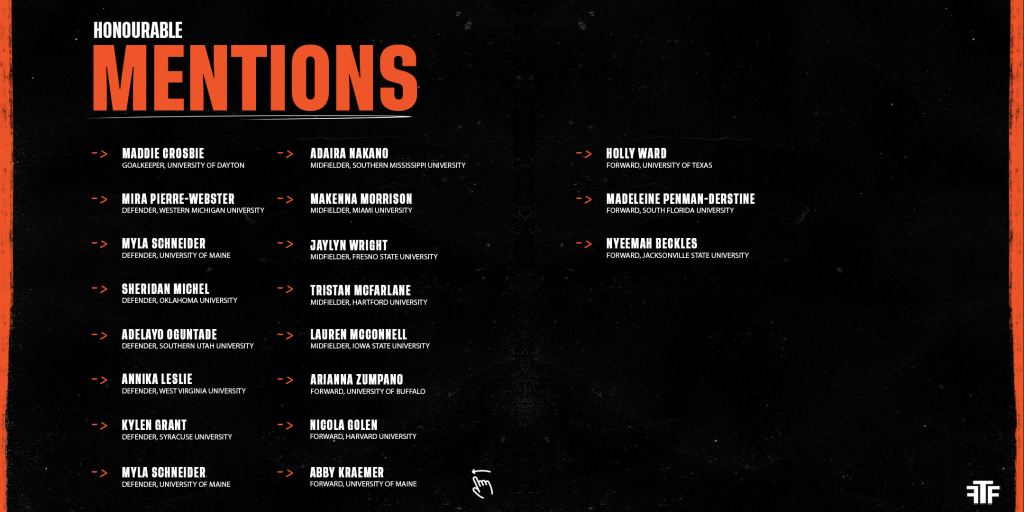 Honorable Mention
Goalkeeper: Maddie Crosbie, University of Dayton:
Defender: Mira Pierre-Webster, Western Michigan University:
Defender: Myla Schneider, University of Maine:
Defender: Sheridan Michel, University of Oklahoma:
Defender: Adelayo Oguntade, Southern Utah University:
Defender: Annika Leslie, West Virginia University:
Defender: Kylen Grant, Syracuse University:
Defender: Myla Schneider, University of Maine:
Midfielder: Makenna Morrison, Miami University at Ohio:
Midfielder: Jaylyn Wright, Fresno State University:
Midfielder: Tristan McFarlane, University of Hartford:
Midfielder: Lauren McConnell, Iowa State University:
Midfielder: Adaira Nakano, University of Southern Mississippi:
Forward: Arianna Zumpano, University of Buffalo:
Forward: Nicola Golen, Harvard University:
Forward: Abby Kraemer, University of Maine:
Forward: Holly Ward, University of Texas:
Forward: Madeleine Penman-Derstine, University of South Florida:
Forward: Nyeemah Beckles, Jacksonville State University: