FTF Canada announced the 2021 NC EH EH All-Canadian Teams with players earning numerous individual honours including 4 All-Conference honours and many others logging significant minutes, while inputting their stamps on many teams across the NCAA. The University of Akron's Malik Henry being voted as the Freshman MVP after registering 7 assists in 17 games in the MAC.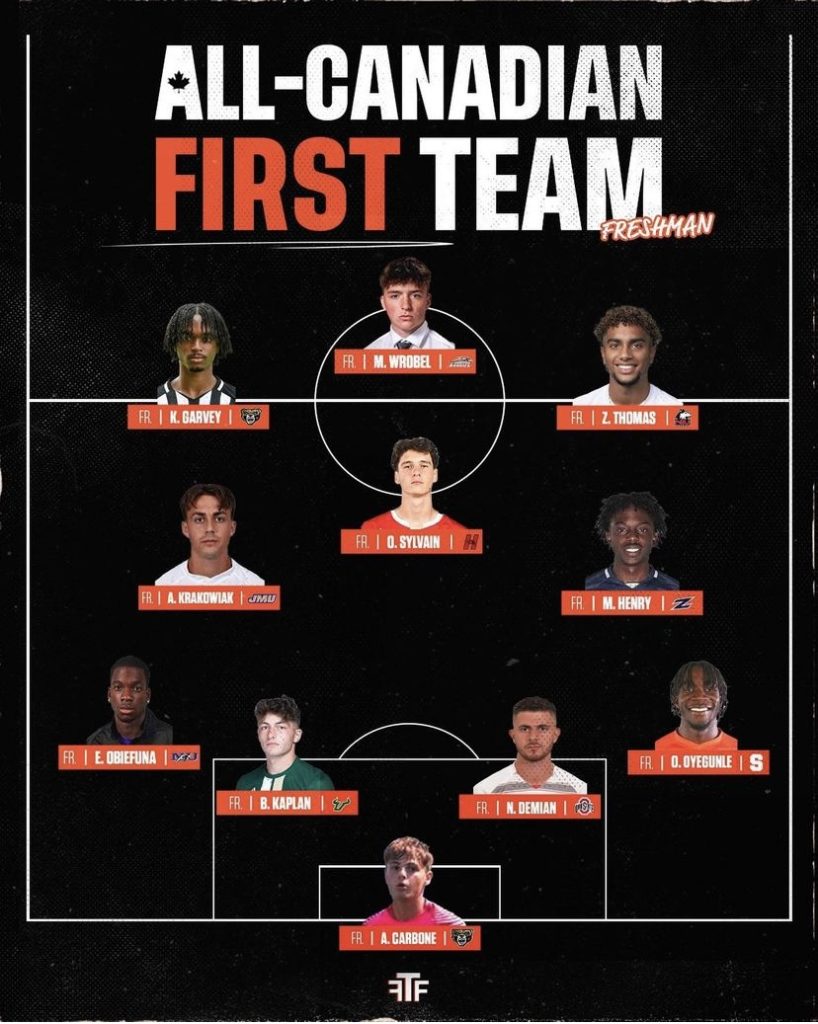 Freshman Team
Goalkeeper: Alessio Carbone, Oakland University: Carbone was Oakland's main goalkeeper in his inaugural campaign. He registered a 4-4-1 record, a 1.52 goals-against average, 0.741 save percentage, and added 3 clean sheets.
Defender: Nathan Demian, Ohio State University: Demian played and started 10 games for Ohio State this past season helping the team to win half of their games while he played and both of the team's clean sheets.
Defender: Olu Oyegunie, Syracuse University: Oyegunie was a consistent contributor for Syracuse during his freshman season. He played in 14 of their games, 7 as a starter, helping the team to the team to an 8-8-2 record and 8 clean sheets during games in which he played in.
Defender: Ben Kaplan, University of South Florida: Kaplan earned a spot in USF's defense by the end of their 2021 season. He played in their final 8 games of the season, starting in 6 of them while also adding a game winning goal.
Defender: Emmanuel Obiefuna, Niagara University: Obiefuna started 14 games in Niagara's defensive unit, playing in 16 out of 18 total games. His solitary assist helped the team to a 3-2 win, while also contributing to 2 clean sheets.
Midfielder: Malik Henry, University of Akron: Henry registered 7 assists in 17 games, 16 as a starter, for the Zips. His sensationally creative freshman season culminated in earning All-MAC Conference 2nd Team honours.
Midfielder: Olivier Sylvain, University of Hartford: Sylvain solidified his spot as a mainstay in Hartford's midfield during his first collegiate season. He started all 17 of his appearances and added 1 goal in a 3-1 win.
Midfielder: Alex Krakowiak, James Maddison University: Krakowiak earned the trust of his coaches from the off of the season. A starter in 16 games, he notched 2 assists and impressed his opponents as he was named to the All-CAA Conference 3rd Team.
Forward: Zachariah Thomas, Northern Illinois University: Thomas frequently featured for NIU playing in 20 games, 13 as a starter. During his inaugural collegiate campaign, he scored 3 goals, added 3 assists, and was named a MAC Champion.
Forward: Matthew Wrobel, St. Bonaventure University: Wrobel was a consistent threat as a main striker in his freshman season. Starting 13 games for the Bonnies, he scored 5 goals, registered 2 assists, and was justly named to the All-Atlantic 10 Freshman Team.
Forward: Kai Garvey, Oakland University: Garvey was a weapon for off the bench in his first collegiate campaign. He played in 16 of Oakland's 21 games, recording 2 assists. For his efforts, Garvey earned All-Horizon League Freshman Team honours.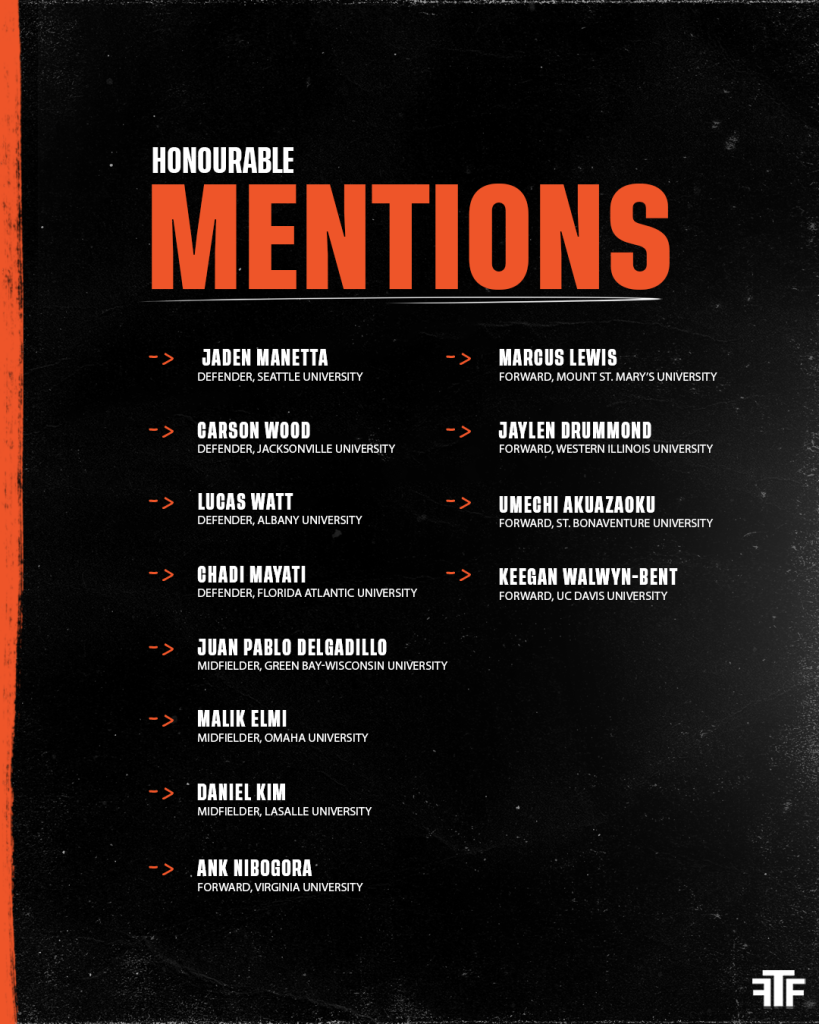 Honorable Mention
Defender: Jaden Manetta, Seattle University:
Defender: Carson Wood, Jacksonville University:
Defender: Lucas Watt, University at Albany – Great Danes:
Midfielder: Juan Pablo Delgadillo, University of Wisconsin – Green Bay:
Midfielder: Malik Elmi, University of Nebraska – Omaha:
Midfielder: Daniel Kim, La Salle University:
Forward: Marcus Lewis, Mount St. Mary's University:
Forward: Jaylen Drummond, Western Illinois University:
Forward: Umechi Akuazaoku, St. Bonaventure University:
Forward: Keegan Walwyn-Bent, University of California – Davis: