FTF Canada announced the 2021 NC EH EH All-Canadian Teams, with Niagara University's Florence Vaillancourt being voted Player of the Year recording a staggering 13 goals and 10 assists in 17 games for Niagara University in the MAAC.
Amanda West was named Attacking MVP after registering a staggering 10 goals and 3 assists in only 11 ACC games. Julio Grosso was named Midfielder MVP producing 6 goals and 4 assists and being named to the United Soccer Coaches All-America Third Team. The Defender MVP was awarded to Gabrielle Carle as she recorded 3 goals and 6 assists for the NCAA DI 2021 National Champion Seminoles. Marika Laurendeau was named Goalkeeper MVP after helping guide her team to a NCAA DII National Championship, while also being lone goalkeeper to be named in the United Soccer Coaches All-America First Team. Finally, the Freshman MVP was awarded to goalkeeper Camellia Xu who possessed one the best seasons for all goalkeepers in the NCAA, setting some school records in the process.
The NC EH EH All-Canadian Teams are selected by FTF Canada, which is made up of representatives from across Canada.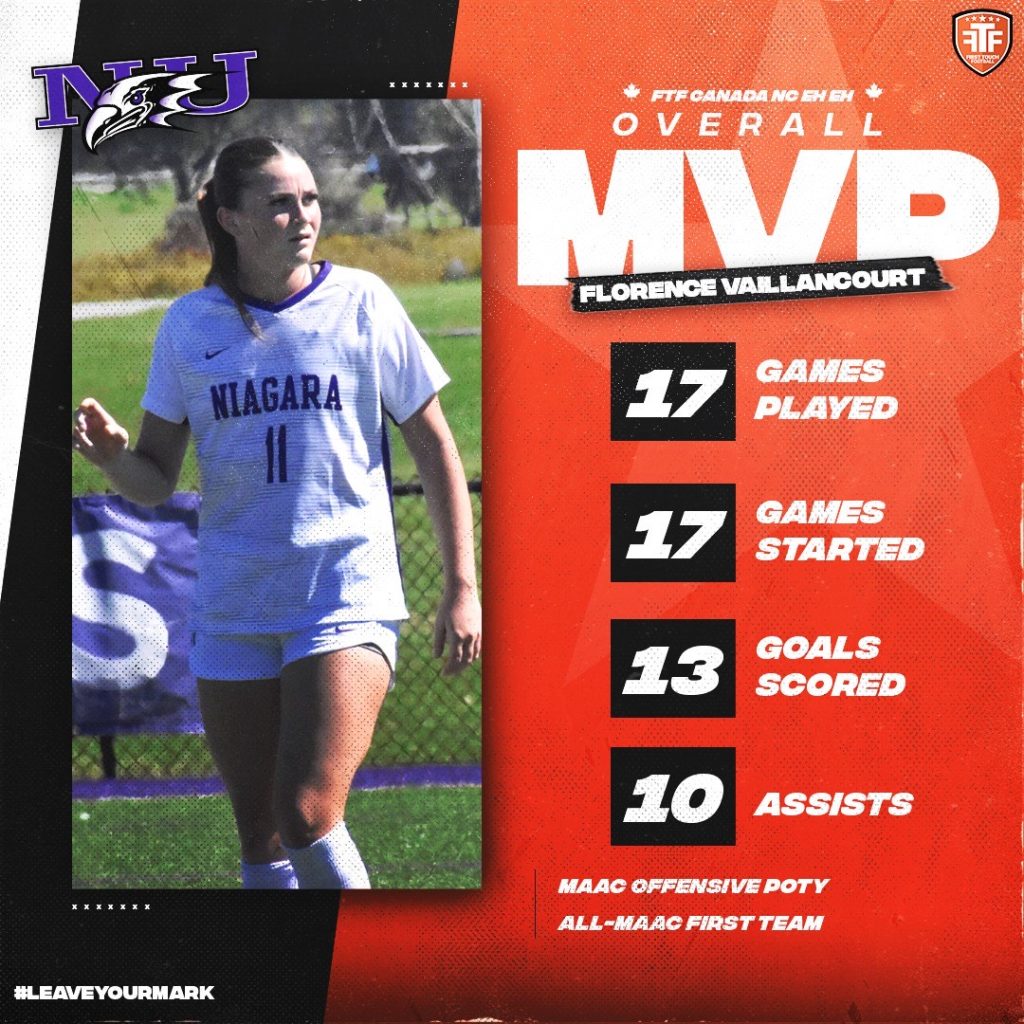 Player of the Year: Florence Vaillancourt, Niagara University: The junior hailing from Quebec City racked up 36 points during the season which ranked 13th in the entire NCAA. Vaillancourt scored 13 goals, including 5 game winning goals, while adding 10 assists. She ranked 18th overall in goals and 26th overall in assists for the NCAA. In 17 games, Vaillancourt registered two hattricks and 8 multi-goal/assist games during the season. Incredibly, there were only 5 games in which she did not register a point. Niagara was 1-3-1 in those games compared to 11-1 when she registered a point speaking to her vitality to Niagara's 13-4-1 record and a MAAC Tournament Finals appearance. Fittingly, Vaillancourt was named to the All-MAAC First Team and crowned MAAC Offensive Player of the Year.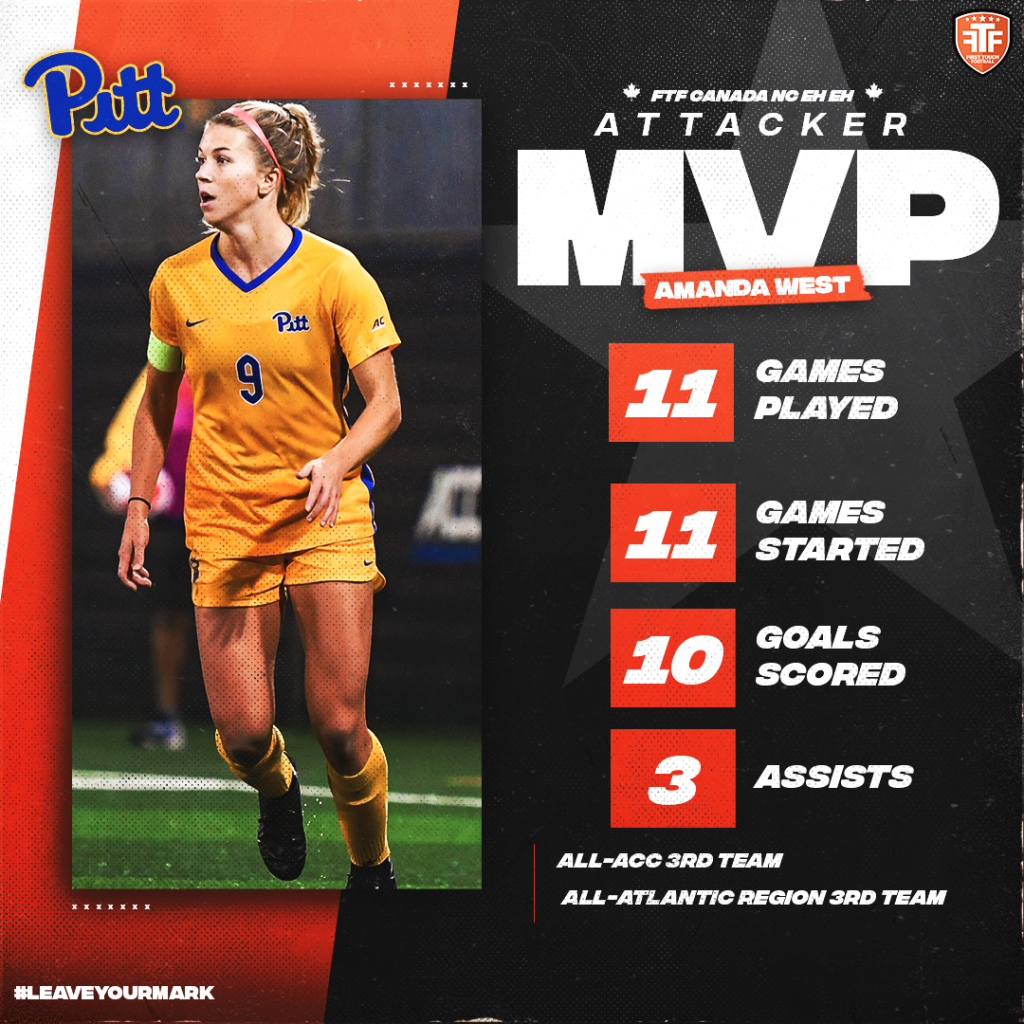 Attacking MVP: Amanda West, University of Pittsburgh: The Burlington native only featured in 11 games this past season yet registered 10 goals, while adding 3 assists adding up to 23 points. Incredibly, she had a point-per-game ratio of 2.09, 5 game winning goals, while tallying 4 multi-goal/assist games. West was named in the All-ACC Third Team and All-Atlantic Region Third Team. Her season culminated in a callup to the Canadian Women's National during the November 21 – December 01 FIFIA Window.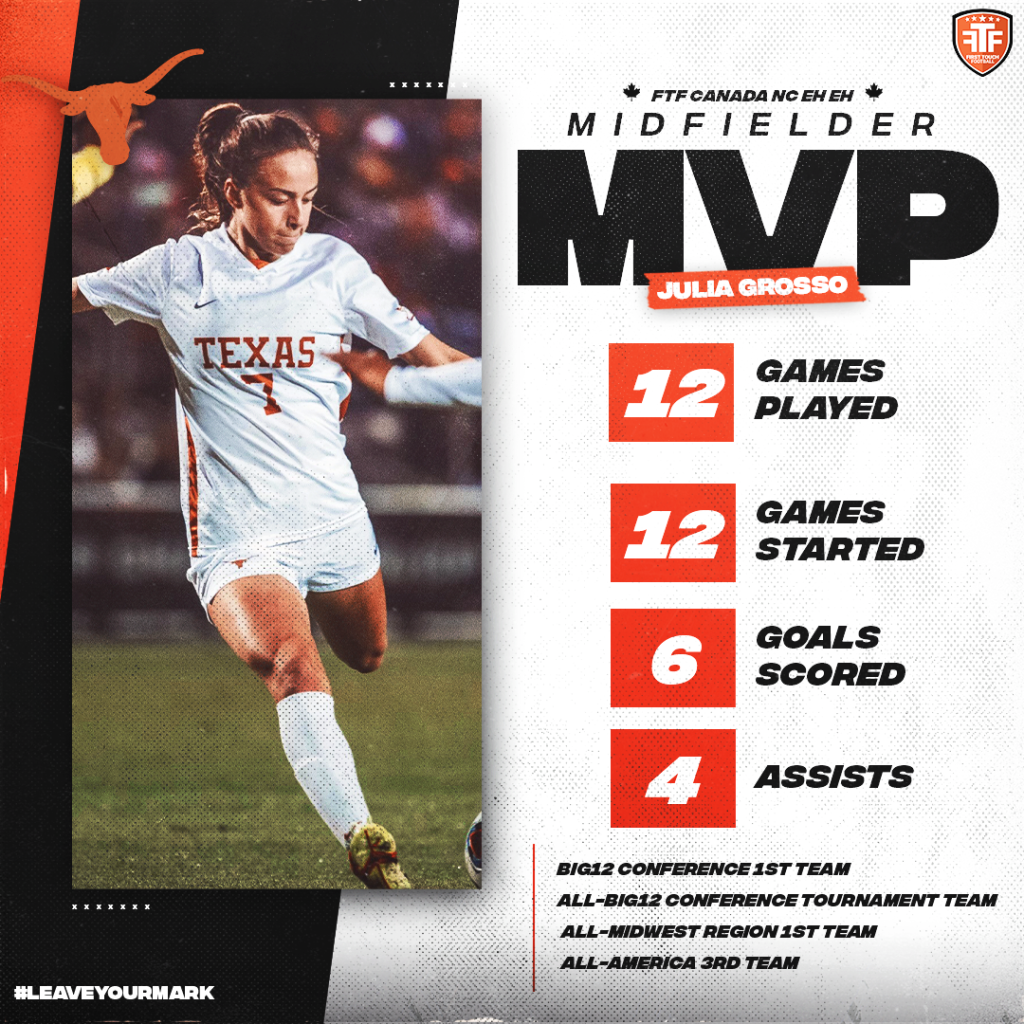 Midfielder MVP: Julia Grosso, University of Texas: The 2020 Tokyo Olympic Goal Medalist followed up her phenomenal summer scoring 6 goals, including 3 game winners, adding 4 assists in her senior season. The Vancouver native was named to the All-BIG 12 Conference Tournament Team, All-BIG 12 Conference First Team, All-Midwest Region First Team, as well as USC All-America Third Team. Grosso signed for Juventus FC Women immediately after her senior season finished.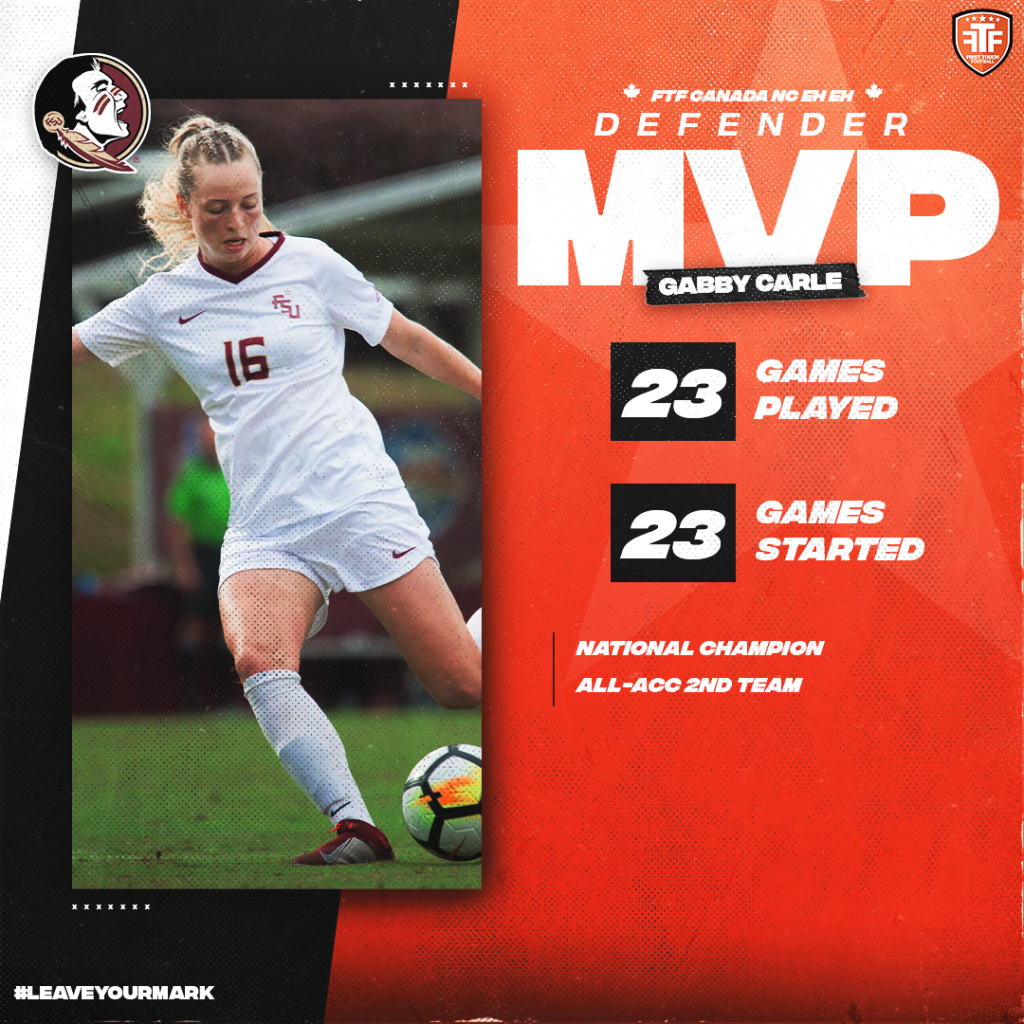 Defender MVP: Gabrielle Carle, Florida State University: 2021 was Gabrielle Carle's year and we were just living in it! A 2020 Tokyo Olympic Goal Medal in August was followed by an NCAA National Championship in December. The Levis, Quebec native scored 3 goals while adding 6 assists in her senior season. A stalwart at the backline starting in 23 of 24 games, Carle helped the Seminoles to a 22-21-2 record and was named to the All-ACC Second Team. She finished 2021 by signing for Kristianstads DFF in Sweden's highest division of women's football.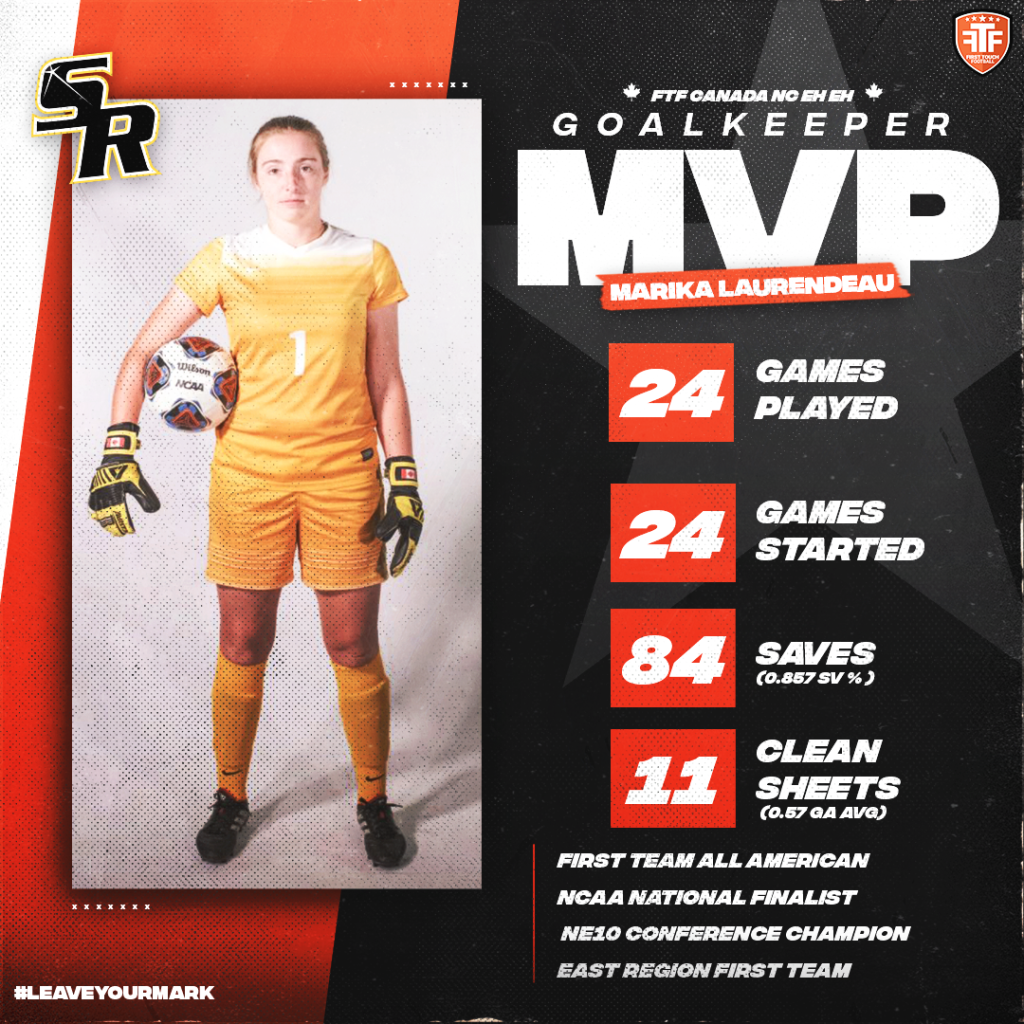 Goalkeeper MVP: Marika Laurendeau, College of Saint Rose: The Sainte-Julie, Quebec native was the best goalkeeper in all of NCAA Division II being named to USC All-America First Team. A starter in all 24 of Saint Rose's games, she earned a record of 18-2-4, ending in a heartbreaking National Championship overtime loss. Laurendeau individual stats include a 0.57 GAA (16th overall in NCAA DII), 0.857 SV% (21st overall in NCAA DII), and 11 SO (8th overall in NCAA DII). After being crowned NE10 Conference Champions, she was also named NE10 Conference Goalkeeper of the Year, All-NE10 Conference First Team and All-East Region First Team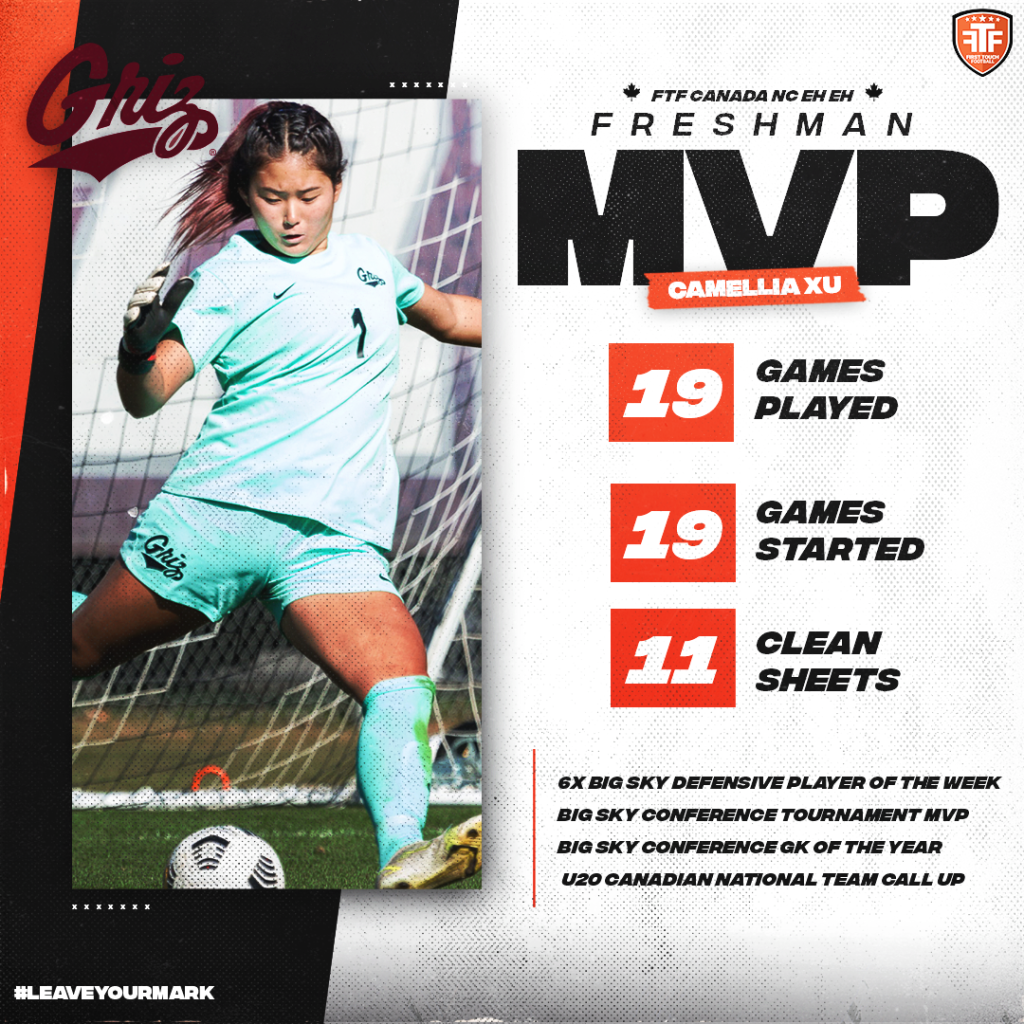 Freshman MVP: Camellia Xu, University of Montana: Xu was named the Big Sky Conference Goalkeeper of the Year after leading the conference in wins, goals-against average, save percentage, and shutouts. The Port Moody native bolstered some of the best individual stats in all of the NCAA during her freshman season, including a 0.72 GAA (25th overall in NCAA DI), 0.859 SV% (11th overall in NCAA DI), and 11 SO (5th overall in NCAA DI). During the season, Xu helped Montana to a 13-5-1 record earning 6 Big Sky Conference Defensive Player of the Week awards and was named Big Sky Conference Tournament MVP after making 6 saves in the final. She became the first goalkeeper in Montana program's history to win the award. Her season culminated in a U20 Canadian National Team callup in early January.