1st Team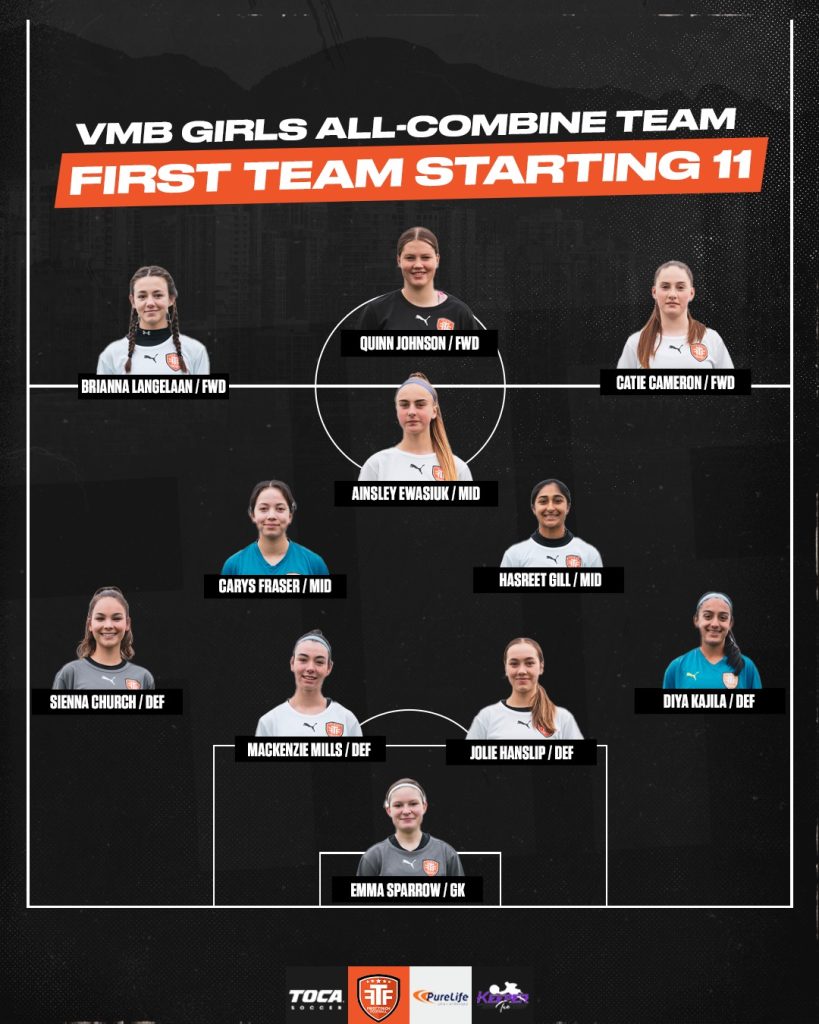 Emma Sparrow | 2024 Grad | GK | Vancouver Island Wave
Sparrow demonstrated great command of her box during the event. She is constantly communicating with her defenders to make sure her side is organized defensively. She is a great shot-stopper and distributes the ball efficiently for her team.
Sienna Church | 2025 Grad | CB | Surrey United SC
Church is a solid 2025 prospect as she's got great size and athleticism. Her range of pass is phenomenal, as well as her choice of pass. She is able to find her teammates all over the park and is a threat to start and attack whenever the opportunity presents itself.
Mackenzie Mills | 2025 Grad | CB | Fusion FC
Mills left her stamp on every game she played in during the March Break combine. Her presence was felt on both sides of the ball as she won virtually every tackle or battle that was presented, and kept her team in possession very well. She always found the right outlet whether it was through the middle of the park, or by finding a winger/fullback.
Jolie Haslip | 2025 Grad | CB | AK Soccer Academy / Manitoba REX
Haslip was the standout defender of the Vancouver March Break Combine as she controlled the game for her team from the back. She was consistently in the right position to break up the oppositions attacks while finding fantastic outlet passes to break pressure from the opposition as well.
Diya Kajila | 2025 Grad | RB | Surrey United SC
Kajila bombed up and down the line throughout the combine. The timing in which she activated to release down the line was phenomenal as she was constantly threatening her opponents by picking up the ball in dangerous areas and providing good end product.
Hasreet Gill | 2025 Grad | CM | Surrey United SC
Gill was the silkiest player at the Vancouver combine constantly scanning and finding space in between the lines of the opposition. She always found a way to shift past defenders and break lines through passing or dribbling.
Carys Fraser | 2025 Grad | CM | Mountain United FC
Fraser was named as the event's Midfielder MVP after her sensational performance. She touched every blade of grass during each game, found great pockets of space, and constantly looked to find her teammates in behind of the opposition's defensive lines. Her habits are first class as she constantly scans which allows her to pick the best pass available.
Ainsley Ewasiuk | 2025 Grad | CAM/RB | Surrey United SC
Ewasiuk was the standout player at the Vancouver March Break combine and was aptly named as the Overall MVP. Athletic, shifty, and very technical, she's a massive threat to any opponent she faces. She is constantly looking to score or set up a teammate as fast as possible and has phenomenal end product. What might be most impressive is her work rate and versatility as she's able to play full back while still dominating on both sides of the ball.
Catie Cameron | 2025 Grad | RW/RB | Coquitlam Metro-Ford SC
Cameron is a very bright prospect that can play anywhere down the right or left side of the pitch. Extremely hard working, technical, and very strong in a challenge, she possesses the ability to massively impact the game on both sides of the ball. Her vision is very good as she constantly scans and looks like play passes round the corner to find players centrally, or in behind to put her teammates through on goal.
Brianna Langelaan | 2025 Grad | ST | Fusion FC
Langelaan possesses the greatest trait a striker can have which is the desire to score relentlessly. She is a physical presence, holds the ball up well, and brings her links with her teammates very well in attack. Her movement in behind the defensive line is superb and she always looks to run directly to goal, getting a shot off and hits the target very consistently. She was named as the Attacker MVP after scoring in every game.
Quinn Johnson | 2025 Grad | ST/CAM | Fusion FC
Johnson is a very unique attacking prospect. She is physically dominant, but very technically sound. With the ability to use both feet, she is a nightmare for any defender who is lined up against her. She is equally threatening from the outright striker position, or if she drops into an #10 role and she can create in many different facets.
2nd Team
Emma Dow | 2024 Grad | GK | Surrey United SC
Dow is a calming presence for her team at the back. Nothing seems to phase her whether its pressure coming from an oncoming attacker trying to block a clearance or a shot coming through bodies. She communicates well with her defenders and is a great shot stopper.
Charlotte Schommer | 2025 Grad | CB | Thompson Okanagan FC
Schommer demonstrated phenomenal positioning during the entire event. She was always in right spot to intercept a pass, step up and make a tackle, cover her teammates in behind, and force the opposition attackers to settle for less than they'd hoped for. Her passing out of the back was also quite good as she was able to break pressure consistently.
Ziv David | 2025 Grad | CB | Coquitlam Metro-Ford SC
David is an athletic central defender who is always strong in a duel. She is strong in a tackle, difficult to turn, and strong in the air as well. Technically she is solid with the ball at her feet as she's find good outlet passes that allow her team to relieve pressure. Also, she covers space in behind her backline very well and is able to clean up well.
Laila Gul | 2025 Grad | CB | Mountain United FC
Gul has all the intangible assets that a collegiate coach would dream of for the central defender. She's a tall center-half who is physically dominant against most, if not all, attackers she comes up against. On the ball, she's able to move the ball well to find the right outlets to her fullback, central midfielder, or skipping right up to the striker.
Averi Weber | 2025 Grad | CB/RB | Coastal FC
Weber is a ferocious defender that leaves her mark on most opponents who line up against her. Able to play both as a central defender or as a right fullback, she is defensively sound and very strong in a tackle. She rarely comes out on the losing side of a duel, on the ground or in the air, is very hard to turn, and is rarely beat in behind as well.
Simran Heir | 2024 Grad | CDM | Coastal FC
Heir is a sparkplug in the middle of the park. She gets around the park so well and her work ethic is second to none. Leaving everything on the pitch every time she steps on it, she touches every blade of grass. Impacting the game on and off the ball, she finds good passes forward and laterally to relieve pressure and find the right option.
Sasha Doleman | 2025 Grad | CM | Fusion FC
Doleman is a clever central midfielder that is always looking to receive the ball and play forward. She's crafty in tight spaces, rarely losing the ball and drives space very well. Her positional awareness on and off the ball is great as she's constantly finding space to receive passes, while breaking up the play of the opposition.
Giulia Altomare | 2025 Grad | CM | Fusion FC
Altomare is a crafty dynamo is the center of the park. Although she's only 4ft11, she certainly does not play like it. Always strong in a challenge, she doesn't back down from a single challenge. Constantly looking to pick the ball up in tight spaces, she finds great outlets forward to help spur her team on in attack.
Lily Green | 2025 Grad | LW | Coastal FC
Green is a promising attacking prospect in the 2025 class. She has the ability to be direct down the line and beat defenders 1v1, or come inside to link up with her teammates. She is very crafty and knows how to create space for herself to either beat her defender or pick the right pass forward to create a chance for a teammate.
Chloe Van Schalkwyk | 2025 Grad | ST | Fusion FC
Van Schalkwyk is a physically dominant attacking player. She uses her strength extremely well to create space for herself in order to link up with teammates, or find a player running in behind. She is a presence in the opposition's box and makes sure every opponent will have a tough day trying to deal with her physically.
Myla Ewasiuk | 2027 Grad | ST | Surrey United SC
Ewasiuk is a phenomenal attacking prospect and the youngest player at the combine. She is technically sound, can use both feet with ease, and is a major goal-scoring threat. She holds up the ball extremely well and her vision and ability to bring teammates into the attack is outstanding.