It was a great weekend of soccer in Boyds, Maryland as the 2023 MLS Flex Tournament took place at the Maryland Sports Complex. 256 teams competed to earn a playoff berth at the 2023 MLS Next Cup Playoffs that will take place in Frisco, Texas in June.
Here at The Playbook, we were able to watch every Canadian team play at least once, and here are our 'standout' performers from the event. 
Myles Morgan | CAM | #8 | (TFC Academy U19 vs Sacramento United)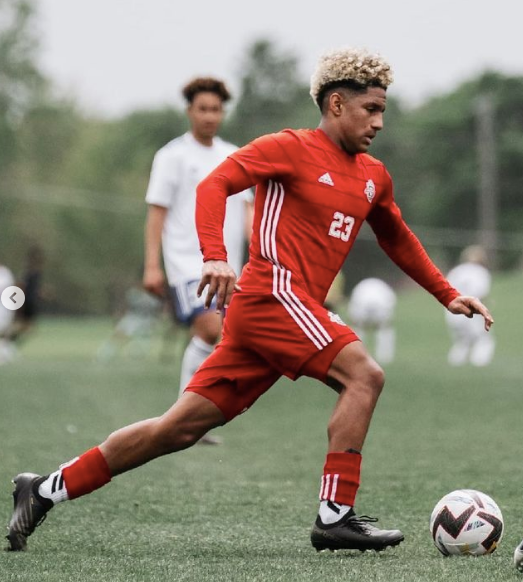 It was the Myles Morgan show versus Sacramento FC in TFC's first game of the 2023 MLS Flex Tournament. Myles is very familiar to FTF/ The Playbook as we have had him at a few events in the past (currently #9 Ranked in our 2023 Event Rankings) but he still was able to show us something new in this game which was his ability to play as a CM/CAM. Normally a ST or inverted winger, Morgan played as a midfielder in this game for TFC U19 and was dominant. Scoring 2 goals and providing at least 1 assist Myles was a treat to watch and played a major part in TFC scoring 7 goals in the match. TFC U19 didn't win a game the rest of the event and if they are able to win the MLS Next Cup Playoffs expect them to lean heavily on Myles Morgan's offensive input to push them forward.
Quentin Christey | CM | #8 (TFC Academy U16 vs Lanier Soccer Academy)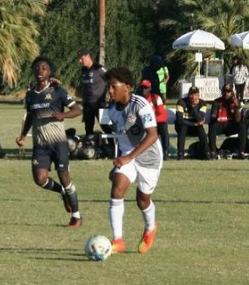 Quentin Christey might be the most 'poised/ youth prospect in the whole Canadian MLS Academy system despite age group or club. The CM was sensational for TFC U16 in this game versus Lanier Soccer Academy and you can tell immediately just by his presence and in-game demeanor why not only TFC (regularly called up to play U17), but Canada Soccer (already invited to a 2006/U17 National Team Camp) rate him highly. Christie is your classic box-box midfielder and uses his extremely high IQ and technical ability to always stay a step ahead of his competitors. In this game TFC ended up receiving a red-card in the 1st half to their RB and even though the scoreline doesn't indicate much of a challenge it was thanks to Christie as to why they were able to continue playing so effectively. As he quite regularly filled into the RB/RW role to minimize any threat on that side defensively and offensively ensured that TFC was able to retain possession regardless of which side they chose to come out of. With an injury to CM Antione N'Daiye who was the starting midfielder for CMNT U17 it will be interesting to see if Christie gets a call to the upcoming U17 World-Cup in November.
Timothy Fortier | CM| #8 | (TFC Academy U15 vs LA Surf Soccer Club)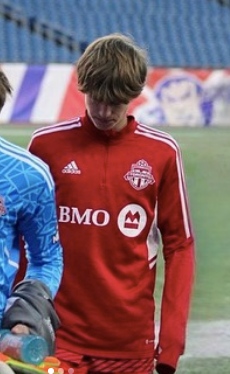 The skipper for the reds was fantastic in this game for TFC U15 scoring 2 goals and notching at least 1 assist. Timothy has an extremely high work-rate to go alongside great tactical and technical understanding which allows him to constantly make things happen offensively in this TFC group. TFC U15 is loaded with weapons going forward; Shola Jimoh, Kemari Record-Wright and Antone Bossenberry, (Jimoh also had a hat-trick in this game) but Fortier is the unsung hero who does the little things to make this team effective. The Baby Reds finished the tournament going undefeated which guarantees them an automatic spot at MLS Next Cup Playoffs in Texas and they will need Fortier to bring these types of performances as competition will surely get tougher once playoffs start.
Gael De Montigny | LB | #37 | (CF Montreal Academy U17 vs Orlando City Soccer Club)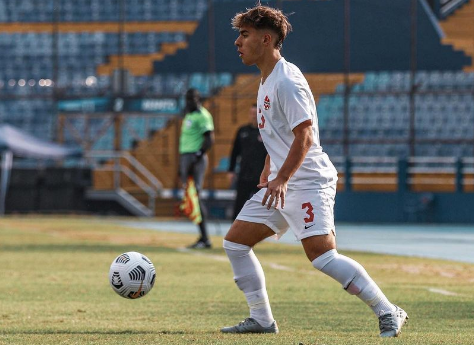 The CMNT U17 player was very good against Orlando City in this game. Montigny is a confident LB who excels at crossing the ball and is one of the top players in this CF Montreal team. This season Montreal U17's have played many different formations in their MLS Next season featuring in a 3 back, 4 back,and 5 back system but one thing that never changes is Montigny as their furthest left defender as either a LWB or LB. In this game he was a LWB and delivered a beautiful ball for CF Montreal's tying goal making it 1-1 in the first half and continuously used his precise passing to break lines to help CF Montreal maintain possession. Where Montigny struggles most is on the defensive side of the ball but with continuous development in this area he will turn into a very intriguing prospect.
Chimere Omeze | CB | #4 | (Toronto FC Academy U17 vs Strikers FC)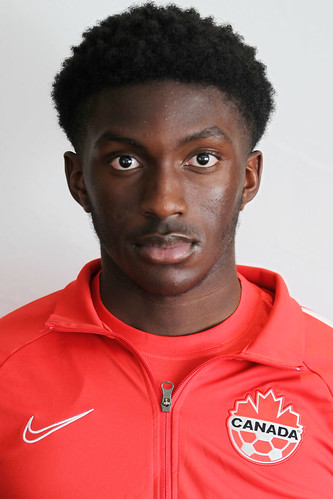 Chimere's full toolbox was on display in the first game for TFC U17 at MLS Next Flex event. He was defensively sound in 1v1 situations against a Strikers team who started the game very quickly on the press. His passing range (short, medium and long balls) was also spot one, which at times is the part of his game that he needs to clean up the most but not today as he connected on almost every pass played. Then finally his aerial/ athletic ability was evident as he opened up the scoring for TFC in the 1st half with a fantastic glancing header soaring above the entire Strikers team (including the goalkeeper). When you watch TFC U17s play you can see why Omeze is the starting CB on the CMNT U17's but the jury is still out if these tools with translate to a professional contract with TFC/TFC2, but from a college recruitment standpoint Chimere is arguably TFC U17s most intriguing prospect with his gifts athletically.
Eliott Germain-Aubrey | LB | #68 | (CF Montreal U15 vs FC Dallas)

Germain-Aubrey was great for CF Montreal U15 against a talented U15 FC Dallas team. He was extremely sound defensively against a very strong FC Dallas winger and was able to get forward and use his always sound positioning and timing of runs in attack for CF Montreal. To top it off Eliott scored the opening goal on a PK which he surprisingly took with his right-foot even though he is a left-footed dominant player. Our team has watched CF Montreal U15s over 10 times this year and one thing we consistently notice is whenever Eliott has a good game the team generally follows suit and gets some sort of result. But when he struggles and doesn't get forward much the team normally struggles.
Sukhman Gill | CB | #66 | (Vancouver Whitecaps U15 vs Sporting Kansas City)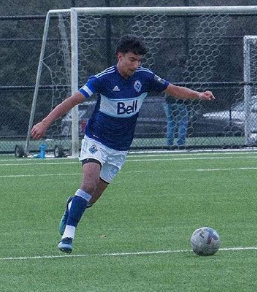 Sukhman was excellent for the Whitecaps in this game versus Sporting Kansas City. Defensively he made all the right reads and as a vocal leader in the group he was consistently communicating with his teammates trying to will them to a positive result. In aerial duels Sukhman is very strong and as a short to medium range passer he is very capable. In our opinion he can improve upon his long range passing but this will come with continuous development.
Amoni Thomas | Winger/FB |#18 | (Vancouver Whitecaps U17 vs BW Gottschee Academy)
Thomas was electric all weekend for Vancouver Whitecaps U17 when deployed as a left winger. Previously we have seen Amoni as more of a FB with this group and thought he was "good", but did our opinion ever change since the Caps have started deploying him further forward.Amoni is almost impossible to defend 1v1 as he constantly glides past defenders at every opportunity he has. Also his speed for this level is outstanding and even though he didn't start this game as soon as he came on you just notice the immediate impact he had on the game. It will be interesting to see where the Whitecaps will use him moving forward in his development but for selfish and pure excitement reasons we hope it's as a winger.
Nathaniel Abraham | Goalkeeper | #1 | (Toronto FC Academy U17 vs Bethesda SC)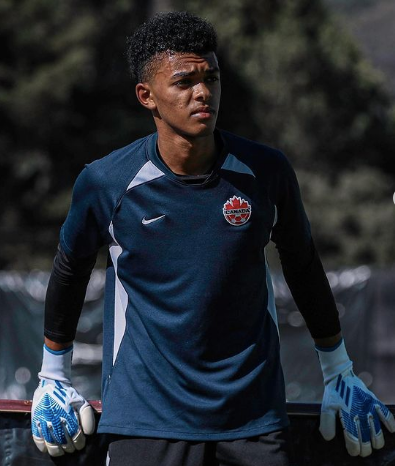 Nathaniel showed why he is our #1 and started every meaningful game for the CMNT U17 despite being a 2007 born (mostly 2006 born players make up this team) in this one. Bethesda SC is known in MLS Academy circles as one of the best non MLS Academy affiliates clubs in the country and they showed it against a strong TFC Academy team dominating possession and chance creation in the 1st half. This is where Nathaniel shined the brightest as not only did he make multiple saves, but also displayed his elite level distribution and high IQ when dealing with crosses. To top it off he saved a well taken penalty-shot to keep the scoreline at 0-0 at that moment in the match. TFC went on to lose this game 1-0 but without Abraham in net it potentially could have been worse.
Dylan Judelson | Midfielder | #35 | (Orlando City Academy U17 vs CF Montreal)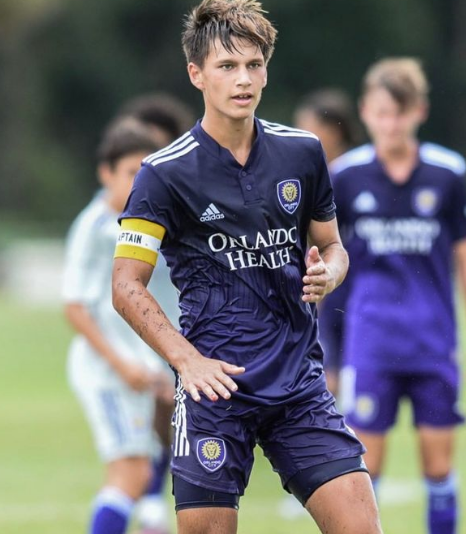 The last player we will highlight in our MLS Next Flex roundup is 2008-born Dylan Judelson. From a contact of ours, we heard Judelson has a Canadian parent and potentially could represent Canada as he climbs through the ranks. In this game, Dylan started for Orlando City (predominantly a 2006 group) as a 2008-born player and looked very comfortable despite playing with older, faster and more experienced players. His high IQ + positioning always keeps him a step ahead of his competition. Not to mention his elite level passing range and uncanny ability to get 'stuck in' are rare to find in a player in the MLS Academy system (much less a player playing 2 years up). With rumors of a CONCACAF U15 Tournament happening in August it will be interesting to see if Dylan gets a call for CMNT U15 or even USMT U15. But it looks like we have another dual-citizen to keep our eye on.