Who's the best team in the entire country? This question is quite frequently asked in Canada and truthfully no one will ever have the exact answer as there is no Canadian National competition that involves all teams.
Here at The Playbook however we will try to 'put the pieces together' and provide a "monthly insight" into who we think are the best U17 (2006 Teams) are across the country.
Enjoy the read below as this is our 1st Edition of who we think are the best despite province, competition, or league. 
NDC – Ontario (Next-Gen)
The Next-Gen group of NDC Ontario which features strictly 2006-2008 born players is by far the best team in the country. Led by Arizona State commit Ella Kettles (2006 born) the group has been on a tear to start 2023 winning the FTF Spring Showdown U19 Division & Woodbridge SC Champions League Showcase with relative ease. The group will only get stronger as the year goes on as you can expect a rapid amount of development in the National Development system + there's always a possibility of some 2006 players who play with the older group to come down like CWNT U20 player Jadea Collin, CWNT player Annabelle Chukwu, and Texan Longhorns/ lethal goal-scorer Rosa Malouuf. To sum things up from here, NDC-Ontario is stacked!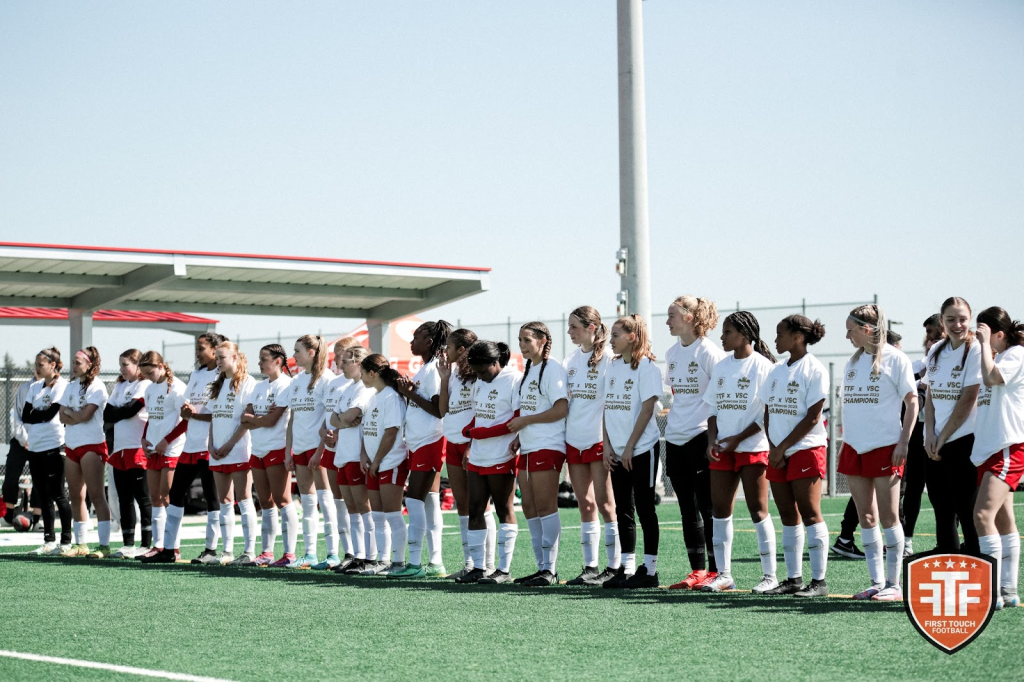 NDC- Whitecaps
The NDC- Whitecaps come in at #2 as the team is loaded with talent from top to bottom. In the midfield they are anchored by 2007 CM/ U17 National team player Emma Wong. In addition to Wong the team features midfielder & Auburn women's soccer commit Jeneva Hernandez Gray, fullback & Syracuse women's soccer commit Iba Ochinf, Canada U17 midfielder Ashley Roberts, and speedy winger/ Texas A&M Aggies commit Jaime Perrault. At the most recent U17 Qualifiers NDC Whitecaps sent 6 (2006 born) players to the U17 World Cup and 2 (2006 born) players to the most recent U20 Concacaf Qualifiers (Perrault and Hernandez- Gray). Which is only 2nd to NDC – Ontario in terms of the most representation.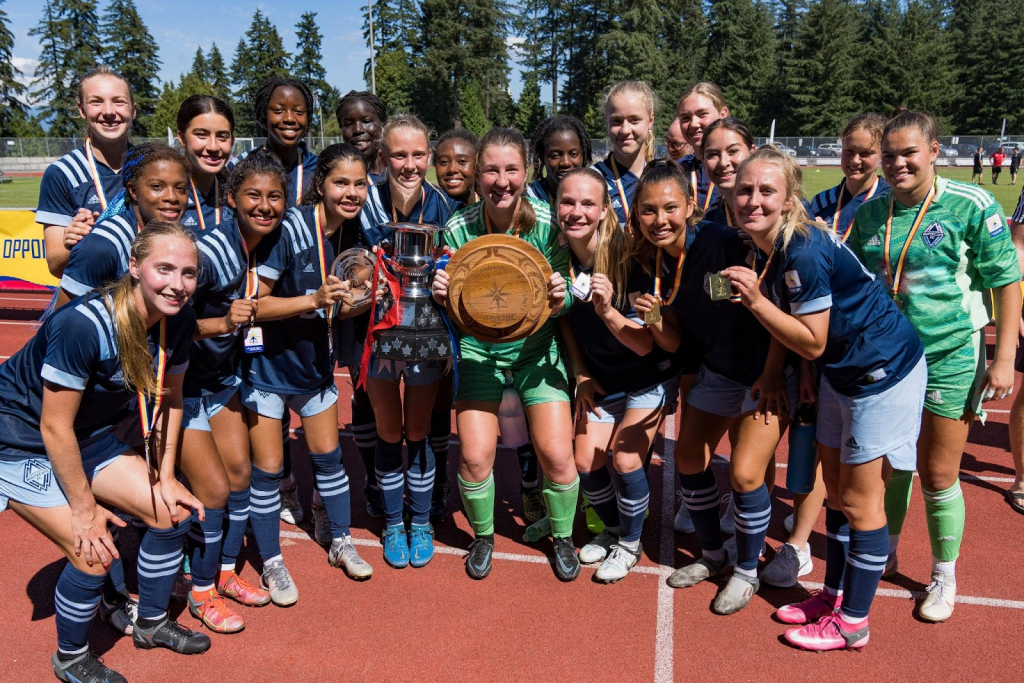 3. NDC – Quebec
Grabbing our #3 spot is the NDC group out of La Belle Province. Another very talented team that features top prospects from across the province but none potentially more appealing than 6ft3 goalkeeper Khadijah Cisse who is extremely intimidating in front of goal. The team earns this ranking after some hard fought games against NDC- Ontario and NDC- Whitecaps at the NDC Cup in November where the "Junior Team" lost to both NDC Ontario and NDC- Whitecaps. As the older group phases out however look out for 2006 prospects Janet Okeke & Esther Brossard who will eventually join this already stacked team. Esther should provide some additional scoring punch as last summer she recently won the Soccer Quebec Golden Boot at the U17 (playing 1 year up) & U21 level (playing 5 years up). Janet on the other hand has been a starter at the U17 CWNT level and from a 1v1 defending perspective might be the best in Canada for her age.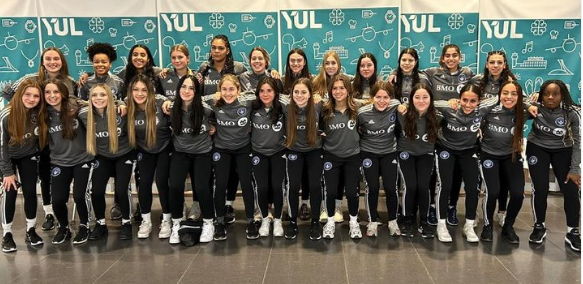 4. North Toronto Nitros L1R
North Toronto Nitros U17 enter our initial ranking in the 4th spot and first "non-NDC" program to feature. This group will be participating in OPDL U17 this year and will be a favourite to win the league this season. Attacker Alexis Worrell is arguably the most dangerous player in the group and she is always on the front foot ready to provide goals and assist. North Toronto is also extremely well coached and with additions Maaja Fisher (CM), Emma Klein (GK) and Puneet Gill this year we have a strong feeling North Toronto will be the team to beat out of Ontario this year.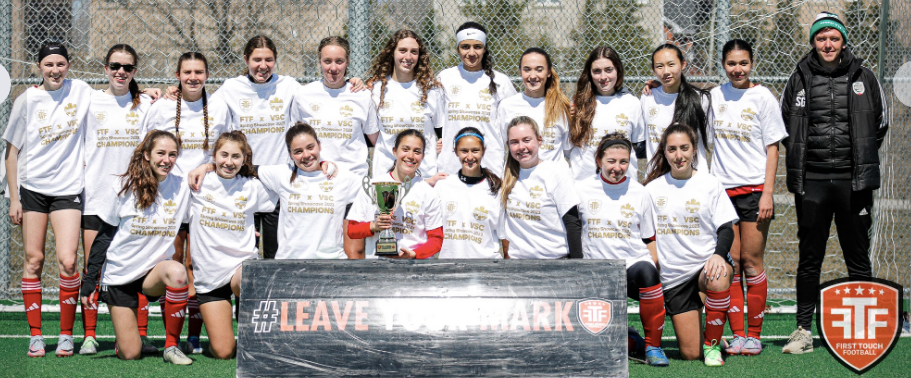 5. FC Laval U17 AAA
Coming in at #5 we have FC Laval. The group walked through the U16 AAA last year and with some NDC- Quebec additions to add to the squad this year we wouldn't be surprised if FC Laval end the year as Canada Soccer Toyota Nationals Champions. Eva Vespa is a name to keep a close eye on this season. Fresh off a stint with NDC Quebec, Vespa has a natural goal-scoring touch which will help this already sound FC Laval team dominate in provincial play this season. Other players to look out for on the squad are CB Kinofoh Coulibaly and winger Emma Panagiotakooulos.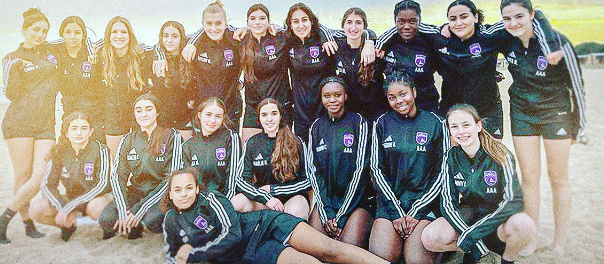 6. Erin Mills Eagles U17
Coming in at the #6 spot in our top 10 is Erin Mills Eagles U17. The team is very well known in the 2006 age group of Ontario and if not for the permanent departure of standout player Jadea Collin (NDC-Ontario) we probably would've had Erin Mills higher in the ranking. Despite the loss of Colin this team is still loaded with the likes of Jahkaya Davis (ST) , Sydney Lytle (CB/FB), Olivia Blair (FWD), Evana Eyubeh (CDM/CB). After losing to North Toronto in the FTF Spring Showdown final we won't be surprised to see this team climb up the rankings this season but "lack of competitive games" in their district league will always make them hard to evaluate.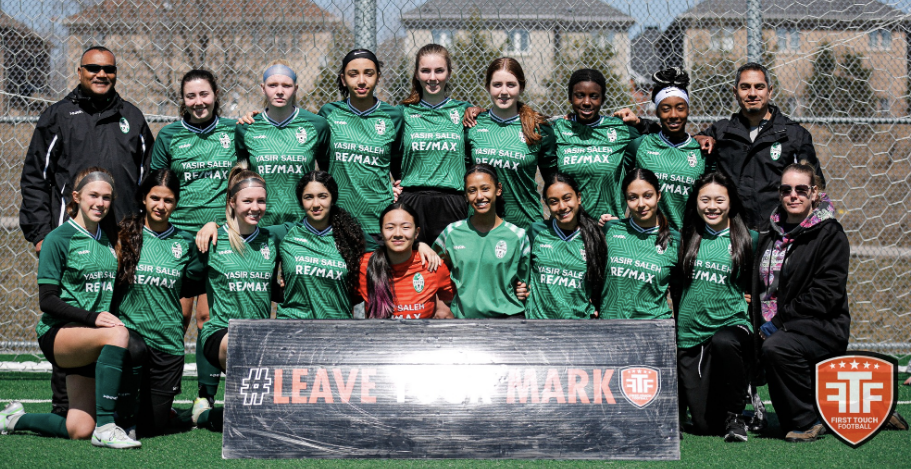 7. Fusion FC U17 BCSPL
Fusion FC 2006 born girls have consistently been the top team in the BCSPL (British Columbia Soccer Premier League) over the last few years. A few of their most recent accolades include, back to back BCSPL champions in 2021 and 2022, provincial cup champions in 2022 and a silverware finish in the SX Cup in 2021. They have a few standout players that solidify their national ranking. Dariella Lopez's (ST) goal scoring record speaks for itself, but what is most fascinating about her is the athleticism she possesses as her ability to strike the ball from distance is sublime. Dariella recently got called into the El Salvador national team for the U20 Concacaf Championship and is committed to Simon Fraser University (NCAA DII). Secondly, is Olivia Gomez (LB), a technical, quick fullback that loves to get forward and whip balls in behind the back line. Olivia is ranked #15 in the FTF 2024 Grad Rankings and is committed to the University of British Columbia (U SPORTS). Other notable names on this team include Brooke Viccars (LW/RW) a crafty and pacy winger, and Lauren Ambrose (CB) great positionally, defensively and on the ball. Both players are featured in the FTF Top 100 2024 Grad Rankings as well. This team will be a threat to win Canada Soccer Toyota Nationals this year when it's all said and done.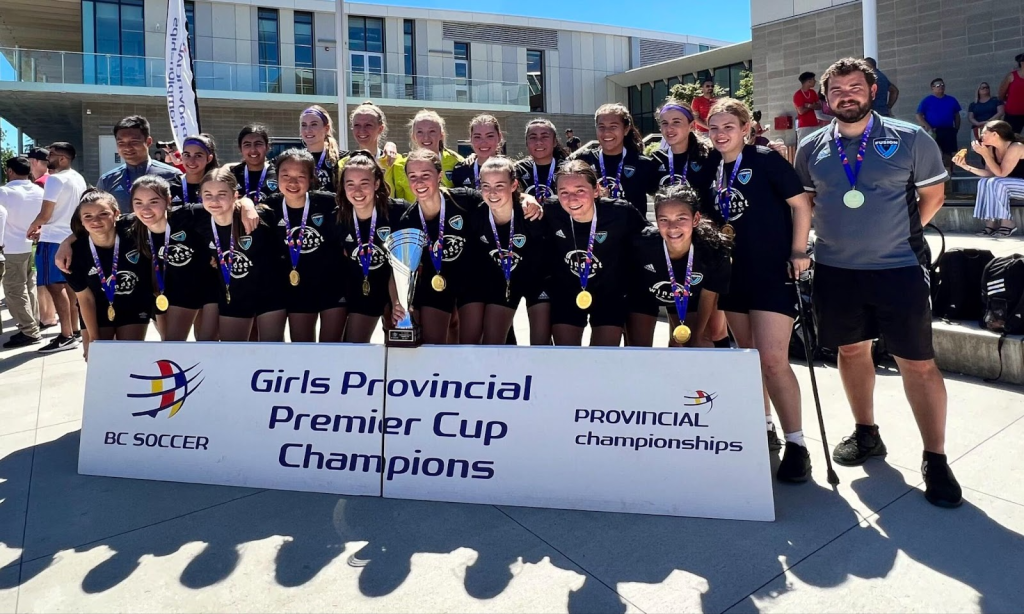 8. Dunbrack U17 AAA
Together since they were 12 years old Halifax Dunbrack is looking like the top U17 Team out of Nova Scotia this year. Last year (playing largely 1-2 years up) they finished 2nd in the U17 AAA division in Nova Scotia. In preseason this year they won the South Shore University Showcase at the U18 division and have capped off wins versus provincial rivals Suburban U17 and UDFC U17. Top players to look out for in this group are 2008/2026, U15 Bridget Mutipula (CB/CM) who is described as calm and composed and someone who creates lots of goals from the deep lying defensive positions. 2008/2026, Melissa Mert (ST), who has a natural feel for the game as a forward that scores tons of goals. 2007/2025 Emily Clark (CM), who is the workhorse of this team that covers every blade of grass on the pitch. And finally 2006/2024s Kate Scholz (CB) and Brooklyn Salgueiro who have both won Combine All-Star awards at our FTF Individual events.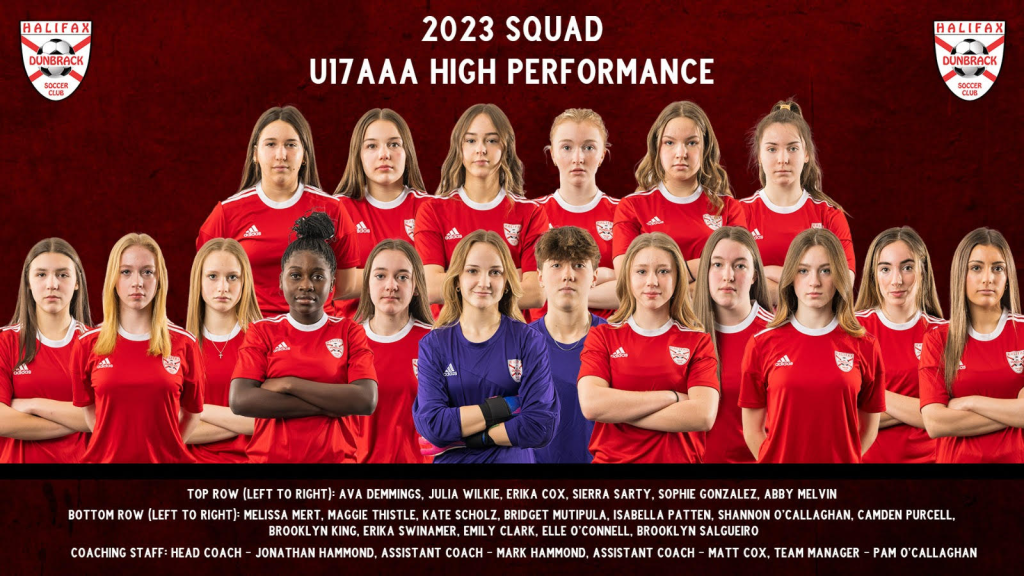 9. Mountain United U17 BCSPL
Mountain United FC 2006 Girls are a strong cohesive unit that finds success buying into a possession oriented system of play. MUFC are arguably the most well balanced team in the BCSPL (BC Soccer Premier League). Some special talents on the team include Isabella Santoianni, captain of the team, a vocal leader and ball playing center back that is strong in the tackle. In the middle of the park is Malalatianna Rabesoa, a exceptionally tenacious midfielder that can break up play and break through lines with her positive passing. Leading their front line is the dangerous 1-2 punch combo with chemistry off the charts between Katie Connell and Brinley Bjornson. Katie is a special player, she excels in her ability to strike the ball with both feet, combine in tight spaces and finesse on the weight of her pass in the final third. Brinley has remarkable movement, lightning quick pace and a nose for the net. To top it off, they most recently added in a Whitecaps FC player, Sierra Bergen, a creative and versatile forward that further enhances the 1-2 punch.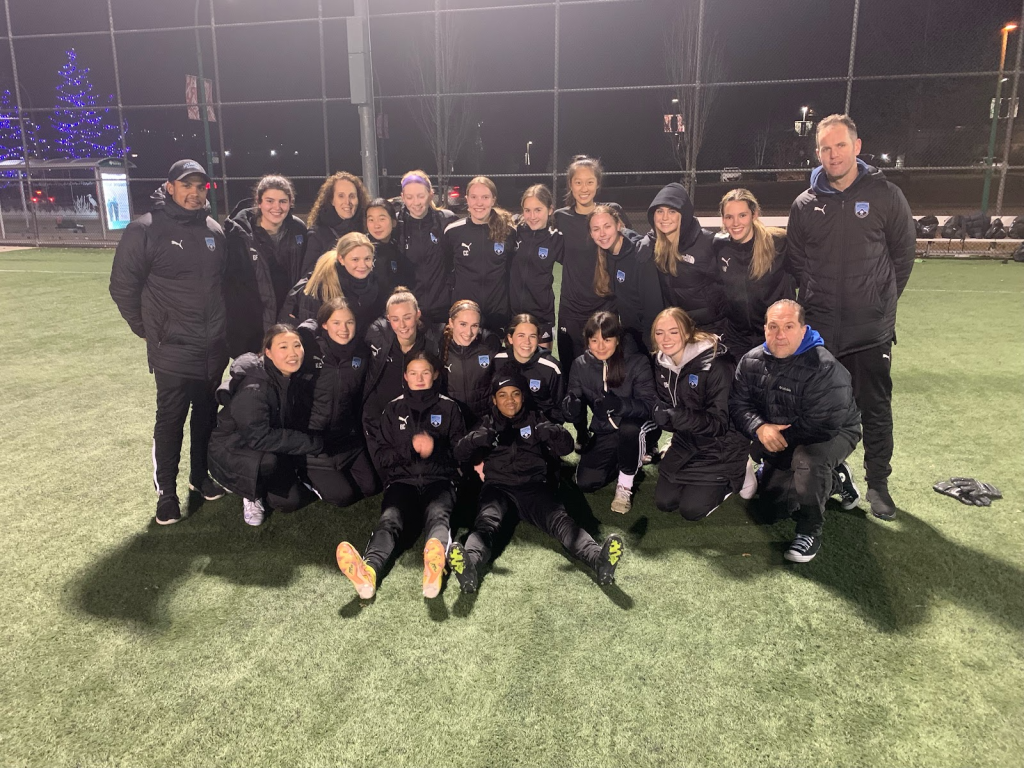 10. Calgary Foothills U17 Tier 1
Calgary Foothills 2006 Girls are a well organized unit that loves to play on the front foot and shine in their patterns of play. The 2022 AYSL (Alberta Youth Soccer League) Provincial Champions were runner up at our Winter Wave Showcase Tournament only losing out to the profound, year older, 2005 born Vancouver Island Wave team by 2-1. Some standout performers on this side include midfielder Olivia Grisdale (CDM), who pulls the strings in the middle of the park. With incredible passing range and vision, she is able to pick apart back lines and spring in her wingers. Another notable mention is Emma Nicholson (CM), a talented midfielder with excellent awareness, movement and tenacity.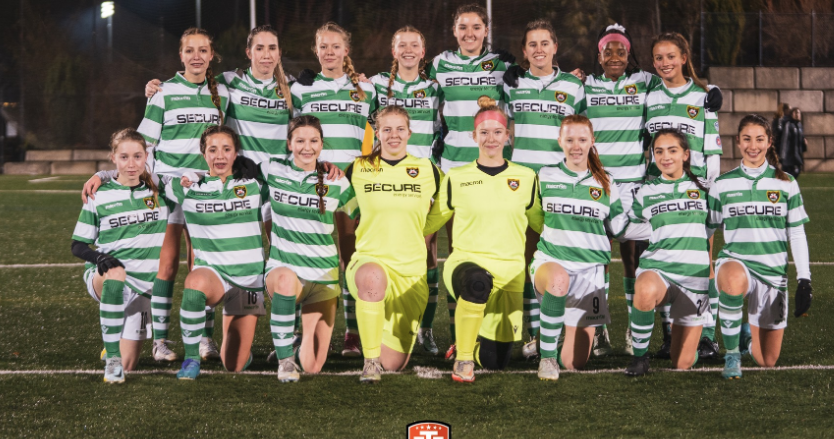 Outside looking in: Alliance London U17 , Vaughan SC L1 Reserve, Suburban FC U17 AAA, Hamilton United L1R